Cwmtillery Colliery – Showing The 3 Shafts. 
The Shafts.
After the initial sinking of Tyr Nicholas Colliery, Cwmtillery Colliery under the ownership of Mr Thomas Brown Esq in 1842, two other shafts were later sunk under the ownership of Mr John Russell Esq.
Mr Thomas Brown.
In 1842 the No1 Shaft (upcast) was sunk to the Elled coal seam at 130 yards deep.
Shaft diameter 7 feet. (originally No1)
This would become the upcast shaft with 2 ventilation furnaces at pit bottom
1847 John Russell.
In 1852 the No2 Shaft was sunk to 185 yards deep.
Shaft diameter 12 x 16 feet elliptical.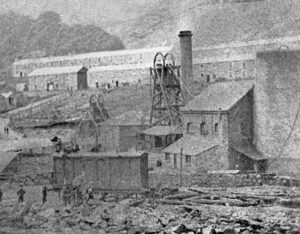 No1 Shaft (Ventilation Shaft) was deepened to 240 yards deep. After a very early report on the wind at the surface "buffering" across the roof of the winder of the No2 Shaft, which affected the ventilation below ground, the colliery inspectors stated that the height of the chimney on the shaft had to be raised 16′ feet so that the chimney would be above the affects of this buffering. In an earlier photograph (as seen left) the chimney can be seen built higher. It seems that the ventilation chimney (as seen on the later image featured above) was being eroded over time and losing height.
In 1858 the No3 Shaft was sunk to 261 yards deep.
Shaft diameter 12 x 16 feet elliptical. 
Ventilation.
In an official report from November 1869 it was stated – There were two furnaces in operation for the ventilation of the entire mine – they were 8′ foot wide 80 yards from the upcast. The new furnace was 9′ foot wide at the bottom of the upcast. The distribution of air was 35,000 cubic feet to the east side workings, total 63,000 cubic feet. The consumption of coal was five tons in 24 hours, equal to 8,076 cubic feet per pound of coal used.
After the sinking of the Rose Heyworth Colliery in 1874-75 the two collieries were connected underground by a drivage driven by Mr Joseph Wallace (General Manager of Cwmtillery Colliery) and Mr William Adams M.E. of Cardiff. The drivage was for ventilation for the collieries, Rose Heyworth Colliery was the downcast and Cwmtillery Colliery the upcast with the huge underground ventilation furnace system designed to service the two collieries.
By the late 19th century 3 pits had been sunk at 33 yards apart, No1, No2 and No3 being the upcast furnace shaft.
The pits were assigned different numbers over the years, when the ventilation was up-graded to the electric fan system the ventilation shaft was made redundant and No3 Pit was renumbered No1 and remained the main upcast shaft for the two collieries (Abertillery New Mine) until their closure.