English Baptist Chapel – Cwmtillery.
The Baptist Movement began at Cwmtillery in April 1899. Mr Arthur Tilney put forth plans to the council for the building of a chapel at East Side, Cwmtillery.
The Baptism Services.
On Monday 5th June 1899 it was reported that the movement was to meet at the Colliers Hall Cwmtillery for the purpose of organising a committee. The following Sunday a Baptismal Service was held in the woods above Blaentillery. Rev T. T. Evans and Rev T. Griffiths conducted the service. There were 350 people present to hear the address and Rev T. T. Evans baptised six people. It was reported that the baptisms took place in what was described as a mud-hole on the side of the mountain.
On Friday 16th June 1899 the council rejected the plans for the building of a baptist church at Cwmtillery giving the reason that it was no more than a tin shed 20′ feet by 12′ feet and the council wouldn't want these kind of things littering the landscape. Upon hearing this the Cwmtillery Baptists applied for permission to use the school as a temporary church (though reports doesn't state which school).
In 1902 a plan for a properly constructed chapel was put to the council and the project went ahead.
The Contractor and Architect.
The contract for the construction of the chapel (as seen on the 1962 map in the featured image) was given to Mr David Powell, contractor of 81 Newall Street, Abertillery at a cost of £570. The architect was Mr George C. Hillard of Market Chambers, Abertillery. The site was leased for 99 years at 1d. per yard and the contract let for £570. Accommodation was to be for 250 to 300 people.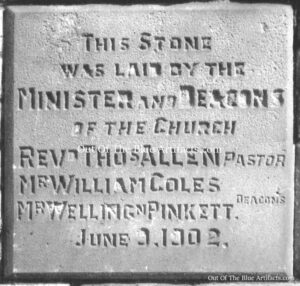 The Ceremony of the laying of the Foundation Stones.
On Monday 9th June 1902 the ceremony of the laying of the Foundation Memorial Stones took place. The Rev Thos Allen presided. The first stones were laid by Rev T. Allen, Mr Coles and Mr Wellington Pinkett (as seen left) on behalf of the church and deacons. Secondly by Mr John Matthews on behalf of the choir and Mr Joseph Aaron on behalf of the Sunday School.
Others who participated in the laying of the stones were as follows – Mrs Phoebe Cooper; Misses M. M. and H. Lewis of Newport; Miss Alice Holbrook of Brynteg; Mrs Lewis of Aberbeeg; Mr & Mrs Percy Matthews; Mr & Mrs E. Barnes; Messrs T. H. Prichard; Mr John Aaron; Mr D. Powell and Miss Williams, daughter of Mr E. J. Williams: Arrangements were made for a stone to be laid on behalf of the Blaenau Gwent Baptist Church and Sunday School.
The subscriptions received during the day were as follows – Pastor & deacons £7.; Choir and Sunday school £14.; Blaenau Gwent Baptist Church and Sunday school£10.; Mrs P. Cooper £5. 5s.; Misses M. M. and H. Lewis of Newport £5.; Mrs Lewis of Aberbeeg £5.; Miss Holbrook of Brynteg £2. 10s.; Mr H. A. Price £5. 5s.; Mr & Mrs Edwin Barnes £5.; Mr T. H. Prichard £5.; Mr John Aaron £1. 10s.; Mrs Percy Matthews £1.; Mr E. J. Williams £5. 5s.; Mr David Powell contractor for the chapel £5.;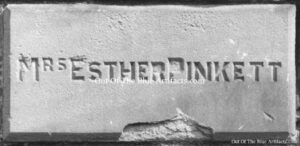 Mrs Esther Pinkett (as seen right) £1. 7s.; Mr William Escott £1.; After the collections short addresses were delivered by Messrs Thos Bevan and William Taylor of Abertillery and Mr Williams of Blaenau Gwent Sunday School. A Bible was presented to the stone layers as a memento.
The Later Years.
The church became derelict in the 1980's and later purchased, renovated and turned into a Bed & Breakfast accommodation called Mynydd Lodge.

Point of interest – Messrs Wellington and Esther Pinkett were my great-grandparents, Mr Wellington Pinkett was a deacon of the chapel and was a native of Yate, Gloucestershire. On the 1861 census there were two families of Pinkett's that migrated to Cwmtillery. Mr William Pinkett aged 45 and his wife Maria with their children George, Margaret, John and Elizabeth. They were accompanied by his eldest son and family Mr William Pinkett aged 23 with his wife Mary and his brothers, one of whom was Wellington aged 18 (who later became deacon of the chapel) along with a cousin Mr John Pugh. They all came to work at Cwmtillery Colliery and lived at the South Wales Colliery Company houses at East Side, Cwmtillery.  
Mr Wellington Pinkett's first wife was Miss Sarah Ann Evans of Blaina, she sadly passed away in 1886 aged 33 years. They were living at Roberts Row, Cwmtillery.
Mr Wellington Pinkett's second wife was Miss Esther Perrott. Miss Esther Perrott was originally from Bristol, she came to Abertillery with her family in the 1870's and was employed by Mr Joseph Wallace (South Wales Colliery Manager) as a maid at his home Fern Villa, at Penybont. Wellington and Esther Pinkett lived at Bridge Cottage, Cwmtillery.
In 1909 Mr Wellington Pinkett sadly passed away, Esther re-married. Her second husband was Mr Herbert Fenner, they later lived at 18 Brynmorgan Terrace, Cwmtillery. Mr Wellington Pinkett's grandson was Mr Albert George Pinkett, who was sadly killed in the 1960 Six Bells Colliery explosion.