The Pavilion Theatre Abertillery.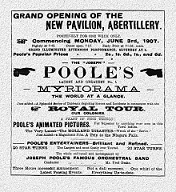 The original Pavilion Theatre Abertillery, situated between Carlyle and Bridge Streets, (as seen in the image below) opened on Monday June 3rd 1907 erected and equipped through the enterprise of Mr Arthur Tilney, of Carlyle House, Abertillery.  The Pavilion Theatre was 110′ feet in length 45′ feet wide with a large rising gallery at the back and galleries at the sides, there was also a rising floor, the stage was 35 feet deep. It was the second largest stage in Wales, second only to Cardiff's New Theatre. The seating accommodation was for 1,600 spectators with tip-up chairs. The theatre was fully decorated in Cream and Crimson.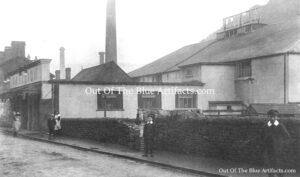 The building had 2 exits into Bridge St and 2 into Carlyle St. The emergency exit doors were push-outwards with separate exits from the galleries and stage. There was good ante-room accommodation for actors and artistes etc.
It was lighted throughout by electric light, the dynamo was worked by the new patent suction gas plant which had been supplied by Mr H. Ward Williams of the Foundry, Abertillery and the lighting installation was carried out by Messrs Geo Sutcliffe and Co, Abertillery. The heating installation was on the high pressure system carried out by Messrs Hampton & Co, Cardiff.
Mr Tilney's sons Ernest and Harold Tilney were also involved has licensees. The first amusement to be shown at the Pavilion Theatre was Mr Joseph Pooles Myriorama (the World at a glance) The Pavilion undertaking was the long cherished desire on the part of Mr Tilney to provide permanent entertainment on strict temperance lines.  Mr E. Pryce the manager had in the past been associated with the management of Messrs Pooles theatre at Porth and Gloucester and the travelling companies. The Pavilions Orchestra was conducted by Mr F. Drake.
The performances were twice nightly from 6.50pm-9.00pm and 9.00pm-11.00pm. Price costs from 1s 6d, 6d and 3d and weekends and holidays 4d.
On Monday June 1st 1908. The record breaking attraction Fred Karno's (Gigantic Company of Star Artistes from the Imperial London Halls and Variety Theatres) Fred Karno's Vaudeville Company performed at the Pavilion, Abertillery. The shows were The Mumming Birds & London Suburbia.
On Monday August 10th  1908. Fred Karno's came back to the Pavilion for a week with their performance of the Pantomimical extravaganza called "Saturday to Monday".
On Monday November 30th 1908. Fred Karno's paid another visit to the Pavilion Abertillery for a weeks duration with their performance of His Majesty's Guests.