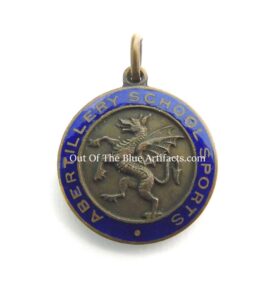 A Batch of Abertillery School Sports Medals.
Abertillery Schools Sports medals. Issued to the competitors from the elementary and central schools of Abertillery at the first annual schools sports in 1932 and the second annual school sports in 1933.
Made from bronze and inlaid with blue coloured enamel. Size 1″ inch.
The First Annual School Sports.
On Tuesday 28th June 1932 the first annual Abertillery Schools Sports were held at the Abertillery Park. It was reported that it was the first of its kind that had been held for the elementary and central schools in the district and that close to a thousand competitors took part. The South Wales Gazette stated that Miss Phyllis Woods of Gelli Crug School captured four first prizes at the sports.
The Trophies and Medals.
Even though there were trophies given to the schools of the winners of certain events the winning competitors also each received a medal (as seen) in the images.
The Second Annual School Sports.
The second annual Abertillery Schools Sports took place on Wednesday 26th July 1933. The competition was held at the Abertillery Park and it was reported that there were over a thousand entries.
The Third Annual Schools Sports.
On Wednesday 18th July 1934 the third annual schools sports took place. The event gained interest amongst other schools in the neighbouring districts and a new feature was added, the Inter Town Relay Race for which entries were received from Newport, Pontypool and Abercarn. An Olympic torch was added and before the event about 800 competitors paraded around the ground where Mr Frank Hayes the chairman of the Abertillery Education Committee stood under the Union Jack and took their salutes.
Even though there were many trophies and prizes awarded at these 1934 school sports there was no mention of the allocation of medals, so it seems that the Abertillery Schools Sports medals (as seen) in the image were only given out between 1932 and 1933?