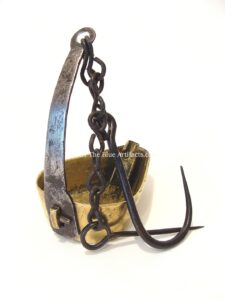 A Brass Oil and Wick Hanging Miners Lamp.
A Crusie or Betty Lamp with a hook and a wick adjuster spike.
Made from brass and iron. Size 4″ x 3 1/2″ x 1 1/2″ inches.
This simple flat bottomed lamp has a reservoir for the oil and a wick funnel. It also has a detachable hanging bracket (as seen in the image left) for use as a free-standing lamp where there is no place to hang it. Used throughout the 1800's.