A Brown Paper Shopping Bag from the Bon Stores, Cwmtillery.
The Bon Stores, was at No7 Fieldings Terrace Cwmtillery and owned by Messrs L. & M. Thay. Fieldings Terrace was a small row of buildings on Ty-Dan-y-Wal Road just above the Winifred Terrace and the entrance to the Cwmtillery Colliery.
Made from a thick Brown paper with White string handles.
Size approximately 18″ x 14″ x 8″ inches.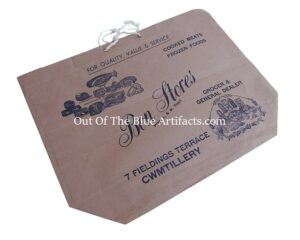 Bon Stores Bag folded (as seen left). It has a reinforced card rim for strength and stability.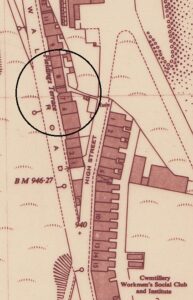 A 1960 map of the area (as seen right) where the stores were, No7 Fieldings Terrace is circled in Black.