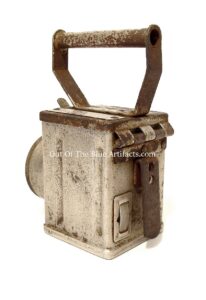 A Miners Rescue Hand Lamp.
This small compact hand lamp Type NH-5 was used by the mines rescue teams. Made by Nife, Huntend Works, Redditch, England. 
Made from steel and iron. Size 6″ x 3″ x 3″ inches.
The lamp is battery operated and it has a hinged top to access the power unit. This lamp has a hanging-hook at the rear.