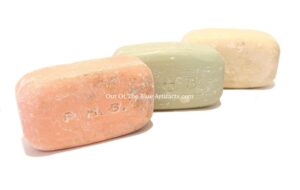 Pit Head Baths – P.H.B. Soap Box.
A Pit Head Baths – P.H.B. Soap Box. This box still has some of the original inner dividers. The box held 72 bars of soap (as seen left) unwrapped. Made from Cardboard. Size 12″ x 10″ x 8″ inches.
The National Coal Board supplied the bars of  Colgate – Palmolive Soap to the Colliery Canteens for the miners to purchase. These bars had the initials P.H.B. impressed into the soap and the bars came in 3 different colours – Green, White and Pink, the Green being the most used and common. 
The Colgate – Palmolive company also produced a Shampoo to be used in conjunction with the soap at the baths, the shampoo came in a plastic conical shaped bottle and they came in a 2 different coloured bottles – Green and Pink, again the Green was more commonly supplied.