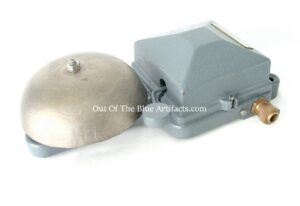 An Electric Shaft Signalling Bell.
A colliery shaft signalling bell. Made by Plessey Communication Systems.
Made from steel, cast iron and brass. Size 13″ x 6″ x 4″ inches.
This type of bell was mounted in an upright position on a board above the bank of the shaft. These bells were used for signalling up and down the shaft for supplies and man-riding modes.