Abertillery Tin Works Feeder.
During tin plate production at the Abertillery Tin Works and maybe before at the time the Iron Works were established by Mr Richard Walker, the works relied on a steady and forceful flow of water to power the machinery to manufacture such products.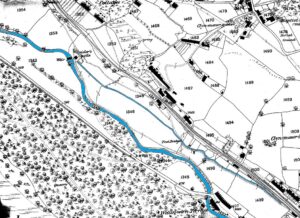 The Abertillery Tin Works and earlier Iron Works site was higher in elevation than the River Ebbw, therefore the water could not be utilised from the river at this point, so plans were put forth at a very early date to construct a feeder from the Glan-y-dwr area which is now Harcourt Terrace.
This feeder diverted water from the river at that point which was channelled down the valley to the Cwmtillery railway junction, at that point the water was actually higher than the iron, tin works site. A sluice was constructed at Harcourt Terrace area which would divert the water from the river to the feeder. This sluice was actually 36′ feet higher above sea level than the Abertillery Tin Works site enabling a good forceful flow of water to be achieved.
The sluice was installed close to Spiders Castle which diverted the water from the river at that point and to flow down the feeder to the junction close to where the Station Hotel would later be built, across the junction and in front of the old Abertillery Railway Station where the library is today (as seen circled in the main featured image above). This feeder went underground at this point and flowed down into the pond at Pond House.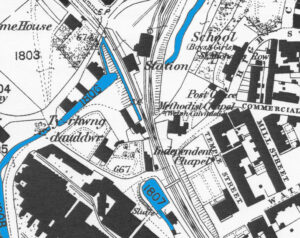 At the Station approach which was where Station Hill is today there was another sluice (as seen on the map right) which diverted the flow of water into the River Tillery which flowed under the road at that junction. This sluice came into action when the pond was full at the tin works.
After the 1890's when the major re-routing of the railway and new station took place this feeder was lowered and took under station approach and through a concrete channelling into the works (as seen circled below).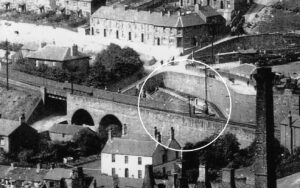 Seen left is a view from 1896 of the top of station approach showing the new concrete channelling for the feeder. The old Abertillery Railway Station can be seen behind the chimney stack on the right of the image. The Lymes House surrounded by trees to the left and the Station Hotel before the re-build at the top of the image.

The Later Years.
Later in the 1900's the building of Glandwr Street took place and the feeder was covered over with the new houses built upon it. This coincided with the introduction of steam power at the Abertillery Tin Works, making water power redundant.