The Alexandra Buildings Skating Rink and Cinema.
The Alexandra Buildings (as seen in the middle of the main featured image above) were constructed by Messrs Skidmore and McWhirter in the early 1900's on the south side of Alexandra Road, between the road and the back lane at Six Bells.   
Messrs Skidmore & McWhirter.
Mr Edward Skidmore and Mr Peter McWhirter were building contractors and ironmongers based in Six Bells throughout the early 1900's. Mr Edward James Skidmore, a stone mason from Milton-under-Wychwood near Burford in Oxfordshire, came to Abertillery in about 1896 and initially lived at Vivian Street. The Skidmore family moved to 27 Alma Street, Abertillery and Mr Edward Skidmore named his house there "Wychwood House" after the name of his home village Milton-under-Wychwood. The building partnership started and the pair constructed many houses in and around Six Bells.
Messrs Skidmore & McWhirter also had the contracts to build the new Trinity Chapel, Church Street Abertillery in 1905, constructed the new Bethany Church, Six Bells in 1905 and renovated the Ebenezer Chapel in 1906. They built many houses in Alexandra Road, Princess Street, Richmond Road and Cwmnanty-Groes. A short while later they built premises on lower Alexandra Road, Six Bells and called them the Alexandra Buildings.
The Alexandra Buildings were a block of individual premises used as shops and such, some of the various proprietors who traded there were – Mr Harry Evans, fruiterer. Mr George Ball, confectioner. Messrs Pollard Bros, confectioners. Messrs Woodley & Co, butchers. Adjoining the buildings was a skating rink, built by Mesrs Skidmore & McWhirter.
Wychwood House, Eastville Road.
Mr Skidmore later built his home at the bottom of Eastville Road and named it Wychwood, after the place where the family originally lived, Milton-under-Wychwood.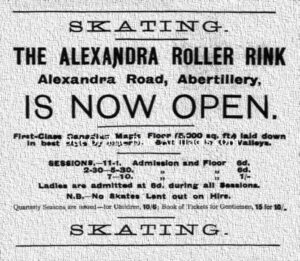 The Skating Rink.
The Alexander Skating Rink was constructed in 1909 to cater for the trend of roller skating and such rinks were springing up in many places at that time. The rink was – sized 76′ feet by 57′ feet 6″ inches, with a store room, a 3 stall stable and coach house. The floor was the finest Canadian maple 5,000 square feet. Times of opening were as follows – 11.00am to 1.00pm – 2.30pm to 5.30pm and 7.00pm to 10.00pm. Admission was 6d. for the morning and afternoon sessions, then 1/- shilling for the late session. No skates were lent on hire, skaters had to bring their own. 
Toronto House, Alexandra Road.
Mr Peter McWhirter lived in Toronto House, Alexandra Road, Six Bells.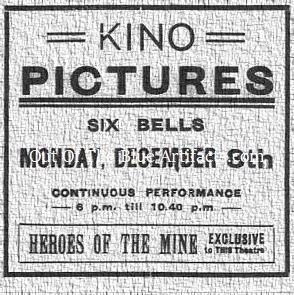 The Kino Picture House.
When the craze for roller skating diminished picture houses became the in-thing, the Empress, on Carlyle Street, built for roller skating was converted into a picture house, other places such as theatres etc followed suit and the Alexandra Skating Rink was sold off as a potential cinema. It was later taken over and turned into such in about 1913 and renamed the Kino Picture House.
In June 1914 it was reported that the Kino Picture House under the Direction of Mr Jack Nightingale had a programme of variety and pictures with two matinees per week for miners. The aged and those miners on sick leave through accidents were admitted free of charge on production of their union cards. Mr Nightingale stated that 25 per-cent of gross takings were devoted to local charities.
After selling off the skating rink with Mr Skidmore, Mr Peter McWhirter left the area in 1913 and sold his Toronto House premises on Alexandra Road. Mr Edward Skidmore left Abertillery in 1918.