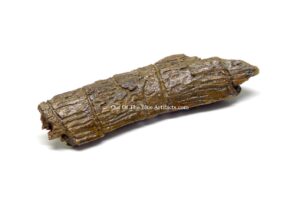 American Indian Artifacts. 
This set of artifacts were found in the Stockton River Delta, California, U.S.A.
Made from bone, wood and mother of pearl (nacre). Size 2 1/2″ to 1/4″ inches.
Neolithic period 4,000 – 2,000 BC. 
A small mother of pearl scraper, a mother of pearl drilled and carved pendant with a carved piece of wood (as seen) above with carvings forming a pattern.