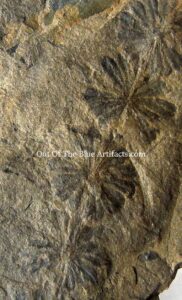 Annularia Sphenophylloides.
This Annularia sphenophylloides fossil was found at the top end of the Cwmtillery Valley in the waste from the Gilfach Green Coal Level (Blaentillery Farm Level).
Fossil size 3 1/2″ x 3 1/2″ inches.
The Annularia Sphenophylloides fossil resembles a Daisy Chain, though it originally grew as individual flowering heads on one stem.
The Carboniferous Period – 354 million years to 290 million years ago.