ALBUM……. Balance Of Power.
Label/No……. Jet 26467.
Pressed in……. Israel.
SIDE 1
Heaven Only Knows.
So Serious.
Getting To The Point.
Secret Lives.
Is It Alright.
SIDE 2
Sorrow About To Fall.
Without Someone.
Calling America.
Endless Lies.
Send It.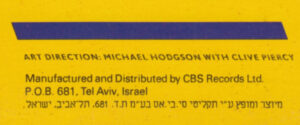 Notes…….Manufactured and distributed by CBS Records Ltd in Tel Aviv, Israel.