Blaina House – Cwmcelyn, Blaina.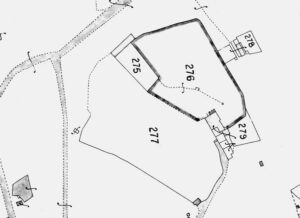 Blaina House along with a few other houses and the Blaina Inn belonged to and was part of the Blaina Estate. The Estate was all part of the Blaina Iron Works. I don't know the exact date Blaina House was constructed though it was on the 1840 Tithe Map (as seen left) The block of buildings intersecting plot numbers 279, 276 and 277.
It was originally built for the early Iron Masters who controlled the Blaina Iron Works and the Cwm Celyn Iron Works over the years and the management connected with them who lived in the area during their time at Blaina. The Blaina House has had many residents over the years though many have come and gone unreported, below are just a few of the occupants who were mentioned in the archives.
Messrs Brown Family.
On the 1841 Census Mr Thomas Brown his wife and daughters were living at Cwm Celyn, Blaina, I am sure the premises were Blaina House. 
Link to – The History of the Blaina Iron Works
Mr Thomas Brown.
Mr Thomas Brown (1804-1884) was the son of Mr Richard Brown, worked with his father and brother in connection with the Blaina Iron Works. In 1832 Thomas and James Brown partnered with Mr John Russell of Risca and formed Russell & Browns. In August 1834 Mr Thomas Brown married Miss Fanny Williams, of Tutshill, near Chepstow.
In 1838 the construction of the Cwm Celyn Iron Works began and was completed in 1839-40.
In 1840 the partnership of Russell and Brown's was dissolved and Mr Thomas Brown sunk Cwmtillery Colliery. In 1847 Mr John Russell purchased Cwmtillery Colliery. In 1864 Mr Crawshay Bailey was advised by Mr Thomas Brown to set up a new company called the South Wales Colliery Company to purchase the Cwmtillery Colliery from Mr Russell, the colliery was on the market for £66,000, the new company was set up and Mr Thomas Brown negotiated its sale for an undisclosed ammount. Mr Thomas Brown was later in a partnership with Mr Henry Stothert who's family owned a big part of the land at Penybont and Greenmeadow, Cwmtillery. He was also associated with Cwm-Nant-Duu Colliery, later Llanerch Colliery and also lived at Nantyglo House in 1876 after taking over from Mr Spencer of the Blaina and Nantyglo Iron Works Company Ltd.
Mr James Brown.
Mr James Brown (1809-1889) was the son of Mr Richard Brown, brother of Mr Thomas Brown, worked with his father and brother for the Blaina Iron Company and partner in the Russell & Browns Co. On the 1841 Census Mr James Brown, his wife Jane and their son's Joseph, James and Richard Brown. In the same household is Mrs Elizabeth Conway and Mrs Mary Munkley. Elizabeth Conway was James Brown's Mother-in-law. Next door to Mr James Brown lived Mr Robert Faulkner, the Medical Surgeon to the Blaina Iron Works.
In the mid 1840s Mr James Brown gave up the Management of the Blaina Works, he moved to Brynglas and became the Mayor of Newport on three separate occasions, in 1853-54, 1860-61 and in 1861-62.
Mr Thomas Brown and family had moved to Victoria House, Bedwellty, Tredegar. He was connected with the South Wales Colliery Company and the Ebbw Vale Company. 
Messrs Levick Family.
In 1844-45 Blaina House was occupied by Mr Frederick and Mrs Mary Levick of the Cwm Celyn & Blaina Iron Works. Mr Frederick Levick was born in the City of London in 1803. Mr Levick started his career at Wolverhampton. In about 1844 moved to Blaina and took charge of the Blaina and Cwm Celyn and Blaina Iron Works in 1845. At this time Mr Frederick Levick was in partnership with Messrs Robert Cruttwell and Robert Allies.
On The 1851 Census Mr Frederick Levick, born as stated in 1803. Mrs Mary Levick, wife born 1809 at Bilston, Staffordshire. Miss Mary Levick, daughter, born 1829 at Wolverhampton. Miss Ann Levick, daughter born 1831 at Wolverhampton. Miss Jane Ellinor Levick, born 1832 at Wolverhampton. George Levick, son, born 1842 at Wolverhampton. Miss Emily Levick, son, born 1847 at Blaina, Monmouthshire.
In the 1850s Mr Frederick Levick was in partnership with Mr George Shaw Munn; Mr Robert Cruttwell; Mr Robert Allies; Mr John Stothert; Mr Henry Stothert; and Mr George Shaw: In 1855 their partnership was dissolved though Mr Levick and Mr Robert Cruttwell carried on together as Levick & Cruttwell.
In November 1867 Mr Frederick Levick sadly died. He passed away at his son-in-law Robert Simpson's home in Slough, near Windsor. Mr Levicks body was later conveyed home to Blaina were he was later interred at Blaina Church.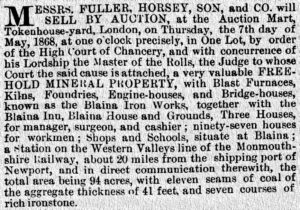 Blaina House and Blaina Inn.
On Thursday 7th May 1868 the Freehold Mineral property with Iron Works at Blaina was for sale (as seen in the advert right) and featured at Fuller, Horsey & Son's at Auction Mart, Tokenhouse Yard, London. The Lot consisted of Freehold Property with Blast Furnaces, Kilns, Foundries, Engine Houses, Bridge Houses, known as the Blaina Iron Works, together with The Blaina Inn, the Blaina House and Grounds, three Houses for Manager, Surgeon and Cashier. Ninety-seven Houses for Workmen, Shops and Schools situate in Blaina. A Station on the Western Valley's line of the Monmouthshire Railway, about 20 miles from the shipping port at Newport. 94 acres with eleven seams of Coal and seven courses of Iron Stone. Together with two Mineral Properties known as Tyr-ap-Gething and Gwain Godwin occupying 47 acres. Also 84 acres with Mineral Properties at Henwain and Craycroft.
Mr Charles F. Richardson.
In 1871 Mr Charles F. Richardson and his family was living at Blaina House. Mr Richardson was the son of Mr John Richardson, Managing Director of the Nantyglo and Blaina Iron Works Company Ltd.
Sometime in the 1880s the Blaina Iron Works was taken over by the Pyle Works of Glamorganshire.
Mr Mark William Carr.
In the early to mid 1880s Mr Mark William Carr, Engineer and Ironmaster was reported as being resident at Blaina House, Blaina.  I have no information on the Messrs Carr family at the moment, though there was a Mr M. W. Carr born at North Shields in 1823 resident Engineer for The Newport Abergavenny and Hereford Railway who actually drove the first engine over the Crumlin Viaduct during its weight testing examinations in May 1857, prior to its opening. Mr M. W. Carr was associated with Mr Thomas Brown Esq of Blaina, who – drove the second train over at the same time. Mr Mark William Carr had a son whom he called Thomas who was born at Newport, Monmouthshire in 1854 and also another son Mark William Carr Jnr born 1847. Mr M. W. Carr Jnr makes it confusing as to who actually lived at, or was resident at Blaina House in the 1880s.  

In 1889 The Pyle Works of Glamorganshire based at Blaina was taken over by a new company that was formed in 1889 called the Pyle and Blaina Iron Works Co.
Messrs Poulaine Family.
On the 1891 Census Mr Eugene Poulaine was living at an Address on Surgery Road, Blaina, which I believe was, or was part of Blaina House. He was described as a French national, single and was the Manager of the Blast Furnaces. At his home was Mrs Mary A. Beynon of Brynmawr, Housekeeper and Mrs Ada Griffiths of Nantyglo a Servant.
In 1891 Mr Poulaine must have travelled back to Paris, France to get married. There is a marriage registered in France between a Mr Eugene Poulaine and Miss Marie Hortense Sifflet at this period.
Mr and Mrs Poulaine were both of French descent. Mr Eugene Poulaine had been the Manager of the Pyle Works of Glamorganshire based in Blaina since 1886.
On Thursday 22nd October 1891 Mrs Marie Hortense Poulaine of Blaina House started the new Blast Furnace at the works. She later gave the men £3 for them to have a drink to celebrate at a local Inn. This new furnace was said to be capable of turning out 300 tons a week.
In November 1892 Mr Poulaine retired and was honoured for his time at Blaina with a meal at the Queens Hotel. Though later reports stated he had remained at Blaina House and was still associated with the company in a managerial role.
In March 1900 Mr Poulaine along with Mr Benjamin Aubrey James and Mr James Manning were nominated to take a seat on the Blaina and Nantyglo Council, In April 1900 Mr Poulaine and Mr James Manning were voted to serve on the Council.
In May 1900 Mr Poulaine was disqualified from serving as a Councillor as he was French by birth and not a naturalised British Citizen.
On the 1901 Census Blaina House was still occupied by Mr Eugene Poulaine. The details were as follows – Mr Poulaine, Born 1856 in France. Mrs Marie Hortense Poulaine, Born 1869 in France. Rene Poulaine, daughter, born in Blaina 1893. Suzanna Poulaine, daughter, born in France 1894. Anda Poulaine, son, born in France 1895. Mary Horrigan, Governess born in Scotland. Annie Sallis, House Maid, born in England. Sarah Moody, Cook, born in England.
In February 1901 Mr Poulaine was still listed as being the Manager of the Pyle and Blaina Iron Works with Mr C. Hervegh the Assistant Manager, Mr Llewellyn Williams Chief Foreman and Mr F. A. Parker and Mr J. F. Roche as Officials.
In January 1906 Mademoiselle Rene Poulaine of Blaina House passed an examination in the second grade, Junior division, on the Cello, gaining 78 marks at the College of Violinists at Cardiff. Mademoiselle Poulaine was a pupil of Mr Charles Ariss of Blaina. In Jan 1907 it was announced she had passed her Senior exam, gaining honours with 94 marks.
Mr Eugene Poulaine was on the Committee that was responsible for setting up the West Mon Golf Club at Nantyglo.
On the 1911 Census Blaina House was still occupied by the Poulaine family though the staff had changed. Details were as follows – Mr Jeanne Dupont, Governess, born in France in 1875. Miss Sarah Britten, Servant, Born in England in 1886. Miss Florence Welling, Servant, Born in England in 1887. They had two visitors listed as – Mr Walter Alfred Scrivener and Mr Ernest Breffit, two Metal Brokers from England.
Mr Eugene Poulaine died in Paris in 1923.
Apart from the Management of the various works, Blaina House, Surgery Road, Blaina was the address of many Trainee Engineers who seemed to have been living there as part of their employment.
Messrs Willans.
In November 1892 Mr Benjamin Willans succeeded Mr Poulaine as Manager of the Pyle and Blaina Iron Works
In 1894 Mr Benjamin Willans, candidate for the Bedwellty Guardians was living at Blaina House. Mr Willans was also nominated to be a Local Councillor, he was elected in December 1894 and was a District Councillor.
In November 1914 the Local War Relief Committee had intended on housing Belgian Refugees at the then vacant Blaina House, the Chairman of the Committee had asked the liquidator of the Pyle and Blaina Works Ltd for the use of the House though they were told they could not comply as the company were giving up possession of the House.
Messrs T. Jenkyn Williams.
In 1916 Mr T. Jenkyn Williams M.E., was living at Blaina House, Blaina. Mr Jenkyn Williams was the General Manager of the Roseheyworth and Cwmtillery Collieries for J. Lancaster & Co and was living at Lake Villas Cwmtillery, though finished to become an Agent for the company and moved into Blaina House. In 1920 Mr Jenkyn Williams M.E., submitted a scheme for the sinking of a new pit on the site of the old Pyle and Blaina Iron Works yard. This new pit was to become The Beynons Colliery.
In January 1923 Mr T. Jenkyn Williams passed away.
In February 1929 Mrs Williams passed away.
Messrs Collings Family.
In the late 1920s Mr Sydney Masters Collings was living at the house. Mr Collings was the Assistant Colliery Manager of the Ebbw Vale Company and its associated companies whom he had served in the past 30 years. Mr Collings had served under Mr J. F. Tallis in 1903 and later obtained the Mining Engineers Certificate, was a Mining Agent of the Cwmtillery and Blaina group of Collieries and while at Abercarn he was one of the pioneers of the Welfare Scheme and was its Chairman for five years. He was also a keen golfer and was Vice President of the West Mon Golf Club. In July 1934 Mr Collings was appointed Magistrate for the County of Monmouth.
In May 1936 it was reported that Mr Helps was the Gardener at Blaina House.
(More information to come).