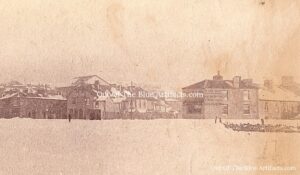 Brynmawr In The Snow – Circa 1885-1890.
This is a very old sepia photograph of Brynmawr taken about 1885-1890, it shows what would become Market Square and was taken before the Market Hall was constructed.
The size of the card is 7″ x 10″ inches – The photograph size is 6″ x 4″ inches.
The Official Opening of the New Market Hall.
On Wednesday 28th February 1894 the new Market Hall, Brynmawr was officially opened.
The South Wales Gazette Newspaper reported – Gala Day at Brynmawr… On Wednesday the town of Brynmawr presented a lively appearance, counter acted only by the usual rainstorms to which we have become accustomed. The occasion was the opening of the New Market Hall, erected by the Brynmawr Local Board at a cost of £2,500, which, besides providing accommodation for all kinds of gatherings will prove a welcome shelter to the farmers and gardeners in the district who have from time immemorial assembled on the bleak, open square.