Circus Entertainment in the Valley.
In 1859 Sangers Circus came to Brynmawr, the earliest known visit to the valley's by a circus.
Mr A. Frost.
In May 1889 Mr A Frost, a circus acrobat announced that he would go 1,000 feet up in the air over Blaina hanging onto the tail of a balloon, then would attempt to fall to the ground and land on his feet unscathed!…The crowd became angry when after hundreds had flocked to see him perform the stunt, he called it off at the last minute owing to the wind being in the wrong direction.
Scott's Circus.
One of the first Circus's reported to come to Abertillery was "Scotts Circus", it came to Abertillery on the Monday July 28th 1890. More than probably at Tilney's Ground. There is no information on the acts that performed.
In 1892 the "Buffalo Bills Show" promised to come to the Western valley's but didn't turn up, "Barnum and Bailey" said their tour was fully booked in Britain and had to decline a request to visit these parts.
Bostocks Menagerie.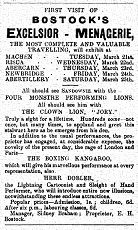 In 1893 "Bostock's Excelsior Menagerie" toured the valley's and came to Abertillery on Saturday 25th March, the company bought with them the Russian giantess and the American Midgets…..At this time E. H. Bostock also had in his menagerie the following – Birds, Beasts, Reptiles, Lion tamers, Clown Lion named "Joey", Sea-Lions, a Polar Bear, a Boxing Kangaroo and Herr Dobler a slight-of-hand illusionist.
Miss Lily Robinson.
On Saturday 25th March 1893 Miss Lily Robinson one of the American Midget performers of the Bostocks Menagerie sadly passed away at 21 years of age while performing at Abertillery. Miss Robinson who was described as being only 3′ foot 2″ inches in height was taken seriously ill on the Saturday night and was attended to by Dr Sargent, accompanied by Dr McPhee. The Doctors seemed unable to make a diagnosis and called for Dr Bevan of Nantyglo and Blaina, though despite their attention she passed away a few hours later. Miss Lily Robinson was buried in the Cemetery at Blaenau Gwent on the following Tuesday the 28th March 1893.
The Great American Circus.
In 1894 "The Great American Circus" came to Abertillery at Tilney's Ground. Artistes included John David Cooke, the World Champion jockey.
Sangers Circus.
In May 1894 "Sanger's Circus" came to Brynmawr and drew enormous crowds, over 30 yards of elevated seating area collapsed and during the performance and there were many injuries though none serious. The crowds were estimated to be close to 8,000.
Fossett's Circus.
On Easter Monday 1898, "Robert Fossett & Sons Grand Circus" came to Abertillery. R Fossett Snr Champion rider, R Fossett Jnr, Champion Rider (with a £1,000 wager that no other man can better him in his acrobatic riding), Thomas Fossett, Champion fast rider with Miss Mary and Emma Fossett, horse riders with a stud of over 100 horses.
Also featuring "Monsieur Davalo" the boneless wonder, he can dislocate his neck (a mystery to the medical profession) "The 2 Rennies" a high-wire  act and "Young Johnny", a midget who rides midget horses.
Lord George Sangers Circus.
In June 1899 "Lord George Sanger's Circus" came to Abertillery for one day only, it featured the military spectacle entitled "With Kitchener To Khartoum", a show to commemorate the recent British victories in the Nile.
It was at this show in Abertillery that two Wolves had escaped from their cage, one was captured at Brynteg, Blaenau Gwent area by the circus lion tamer who had lassoed it during the night, while bringing the animal back to its cage one wolf attacked and bit the tamer on the leg. A few days later a Swffryd Farmer named Mr Boothman shot a wolf that was pestering his sheep.  
In 1901 "Lord George Sanger's Circus" came to Abertillery again, featuring  Spanish Bull-fights, a re-enactment of the great war in South Africa, with Zulus, Kaffir's, and Matabeles etc. One day only.
The Colossal Circus.
In 1902 "The Colossal Circus" visited Abertillery, featuring trick riders, jumping dogs, performing elephants and lions. Trick bicyclist on a miniature track, Charles Raymond the one legged comedian and a fire horse called "Vanity"..
Lord George Sanger's Circus.
On April 12th 1902 "Sanger's circus" once again visited Abertillery and held a special football match between the Abertillery XVs top player Mr Phillip George and an Elephant, they had 3 kicks each into a goal. Mr George came away as winner with the prize of a Silver cup.
Bostock and Wombwell.
On Saturday 4th April 1903 Messrs Bostock and Wombwell came to Abertillery with their show "The Largest Travelling Zoo On Earth" reported as being a "Gigantic Zoological Collection" the travellers set up on Tilney's Ground, Abertillery, the show featured "Linus" a double-maned horse with two 13′ foot long manes and with a 17′ foot long tail. Also on show were gigantic and midget horses and donkey's. Admission was 1s Children 6d. The shows Manager was Mr H. F. Birkett.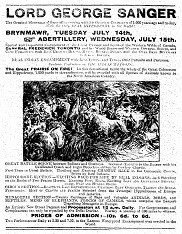 George Sanger's Circus.
On Wednesday 15th July 1903 "George Sanger's Circus" once again visited Abertillery, this time the main attraction was General Frederick Toronto (as seen on the advertisement right) the great pioneer of Canada and his renowned Warrior Cowboys and Bronco horses.
Fossett's Circus.
In 1904 "Robert Fossett & Sons" visited again with their Monster Circus, It was advertised as The Largest Travelling Show On Earth, fully powered by electricity, It featured R Fossett and his ongoing £1,000 wager on who can better his daredevil riding, also "Topsy" the worlds largest Elephant. They had a cavalcade through Abertillery Town and the show featured High-wire acts, Acrobats, Jugglers and Riders.
The Prince Of Wales Circus.
In May 1904 "The Prince Of Wales Circus" visited Abertillery and featured the Brothers, Robert, James and Willie, the champion jockey riders.
Bostock & Wombwell's Circus.
In 1905 "Bostock & Wombwell's" (1805-1905) centenary show came to Abertillery. the show featured Lions, Tigers, Bears and Hyaenas. It was held on Tilney's Ground.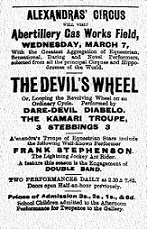 The Alexandra's Circus.
On Wednesday 7th March 1906 the Alexandra's Circus visited Abertillery on the Gas Works Field, it featured "The Devils Wheel" looping a revolving wheel on an ordinary cycle, performed by the Dare-Devil Diabelo, The Kamari Troupe, 3 Stebbings 3. Also featuring Frank Stephenson, a Jockey Act Rider and the Double Band. There were two performances daily – 2.30pm and 7.45pm. Prices of admission were 3s, 2s, 1s and 6d. School Children admitted in the afternoon for twopence to the Gallery. It was at this performance that the big-top collapsed trapping over 500 people and killing one boy from Abertillery. It was said a storm had occurred that night and a huge gust of wind blew the tent down causing havoc.
The Alexandra's Circus Tragedy.
The Circus had arrived from Brynmawr on the morning of the 7th March and the Big-Top was erected, in the afternoon over 500 School Children were seated around the arena and the performance was about to start when without warning a squall lifted the tent of its fastenings, later the Management stated it was a cyclone came through the valley. The Big-Top came crashing down causing mayhem. The children, some with parents were trapped, the Circus staff had to cut open the tent in various places to free the spectators, many were crushed in the panic.
A young boy Master John Trevor James, 9 years old residing with his parents at 34 Duke Street, Abertillery was picked up in an unconscious state and taken to the house of Mr Ralph at the Station Approach (Duke Street being too far to carry him). On examination Dr Rocyn Jones found the boy had received a fractured skull, he passed away a few hours later without regaining consciousness. Dr Jones also attended to a young boy by the name of Carter of 19 Castle Street, Abertillery. He had suffered serious injuries to his ribs and spine and there was little hope of his recovery and a young boy named Boycott of Lower Princess Street, Abertillery who sustained a serious scalp wound also a young boy called Rudge of No 18 Blaenau Gwent Rows, Abertillery who received internal injuries, though not serious at that time. All the casualties had been struck by the tent poles, 32′ feet in height and 10″ inches in diameter. Dr Rocyn Jones and Dr McInerney also attended to several other cases.
The John Scott Circus.
In 1910 "John Scott" came to Abertillery again and the circus was held on the Cwm Hotel Show Ground.
Boswells Circus.
In 1910 "Boswells Circus" performed at Abertillery in the Metropole Theatre.
The Australian Circus.
In 1914 "The Wild Australian Circus" came to Abertillery Park, featuring Cowboys, Jumping Horses, Aborigines and Kangaroos.
Bostock's – Royal Italian Circus.
In May 1914 "Mr E. H. Bostock" came to Blaina with his "Royal Italian Circus" held on the Queens Hotel Meadow, Blaina.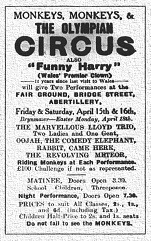 Fossett's Olympian Circus.
In April 1927 Mr Tom Fossett's Olympian Circus came to Abertillery. The acts included the Performing Monkey's, Bare Back Riders, Miss Labelle Sylvia (Trapeze Artiste), The 3 Rozellas (a Balancing act), Funny Harry (a Clown), Mascagni & Fantasia (Roman Riders). The Manager was Mr W. Jackson and the Ringmaster was Mr W. Lloyd.
Don Horlini's Comic Circus.
In October 1931 "Don Horlini's Comic Circus" performed at the Abertillery Park at night under floodlights, there was a crowd of over 10,000. It was the first time in the history of the town that floodlights were used. There were 6 lights on the grandstand and 2 on the opposite side, powered individually by dynamo, a reporter was quoted as saying "another 2 lights on the banking and a football match could be played at night"….  It featured a firework display the best of its kind ever seen in Monmouthshire, it was called the "Wonders of Niagra Falls".
The Great Risko.
In 1937 at Aberbeeg Hospital Fete, there was a small circus performing, with the main attraction being an high-wire trapeze artiste by the name of "The Great Risko".
Ginnett & Fossett's Circus.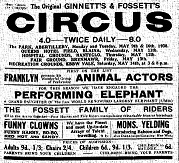 In 1938 "Ginnett and Fossett's Circus" were at Abertillery Park. The Circus came to Abertillery on Monday and Tuesday 9th and 10th May 1938 (as seen on the ad left) It featured Franklyn and his group of Animal Actors. A Performing Elephant, the grand-daughter of the World renowned "Jumbo". The Fossett Family of Riders. Clowns and also a Baboon and Dogs. The Ginnett's Circus also put on shows at the Queens Hotel Field, Blaina, the Hospital Grounds, Nantyglo, the Fairground, Brynmawr and the Recreation Ground at Ebbw Vale.
(More information to come)