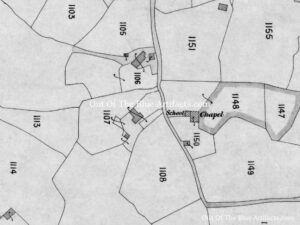 Clyn Mawr Ganol.
Clyn Mawr Ganol (middle farm) was one of three ancient farms at Clyn Mawr, Clyn Mawr Uchaf (upper farm) the Ganol and lower down close to where the Social Security Office is today was Clyn Mawr Isaf (lower farm).
The Clyn Mawr Ganol is seen (centre-left) on the 1840 map, also seen on the map is the original Crown Inn (above) the farm and the Blaenau Gwent Baptist Church and School to the (right). The main road running down through is what is now Victoria Street and branching off to the right is what is now Preston Street, which was at that time the main thoroughfare up through Blaenau Gwent to the Manse, Ty Dan-y-wal and Cwmtillery beyond. 
Messrs J. & C. Bailey owned the land at Clyn Mawr Uchaf and leased it to Mr Thomas Rogers, they also owned Clyn Mawr Isaf which was leased by Mr William Edmonds, while Mr Edmund James owned the land upon which Clyn Mawr Ganol stood and quite a large area around it which was passed onto the family, mainly his son Mr Alexander James.
The history of its residents is a bit unclear, as on a few early censuses the name Clyn Mawr Ganol is not written down, and the farms and cottages at Blaenau Gwent were not named and were often misreported. Though it seemed to have been the home of Mr Edmund James and family. Mr James was coal level proprietor and colliery Agent. He owned the land around the area from Clyn Mawr down to Gladstone Street and Portland Street area and Mr Thomas Brown Esq of the Nantyglo and Blaina Co owned the land from Clyn Mawr up through where the Blaenau Gwent Rows was later built and on into Blaina, which later passed into the hands of the South Wales Colliery Co and later other various estates
Mr Edmund James.
On the 1841 census Mr Edmund James, born 1811 at Gelligaer was living at Clyn Mawr Blaenau Gwent, close to the Manse, Ty Bryn. He lived with his wife Mrs Ann James, born 1816 and their children – Miss Mary James, born 1830. Miss Ann James, born 1833. Miss Elizabeth James, born 1835. Miss Sarah James, born 1837 and Master Edmund James, born 1840. Later Mr Edmund James had another son Master Alexander James, born 1847. Alexander James would later become the first timber merchant at Abertillery with his timber business next to the Railway Inn, Abertillery.
The newspaper clipping (above right) proves that Mr Edmund James was living at the Clyn Mawr Ganol (middle farm) throughout the 1800's, The clipping is from the Welsh Newspaper called the Seren Cymru and this piece was printed in November 1862. The census enumerators, as suspected, got their farms mixed up while compiling the various censuses of the Blaenau Gwent area in the mid to late 19th century. 
Mr Edmund James was a land owner of much of Blaenau Gwent, at Brynteg and also the Rhiw Park area. In 1854 he gave land for the access road to be constructed into the British School at the time it was being built. I believe James Terrace and James Street could have been named after him?
At Blaenau Gwent in 1851 the census shows Mr John Jones and his wife Magdelene Jones lived at the Ganol, though this is a bit unclear as they were also living in a cottage which later become the Crown Inn, that was also a farm at this time and may have been mistaken for the Ganol. A few of the prominent families in Blaenau Gwent seemed to move about a bit between censuses or maybe the census enumerators, as mentioned just got the names of the premises mixed up?
In 1851 Mr Edmund James, his wife Ann and children lived at Blaenau Gwent next door to Chapel House, Clyn Mawr, at this time Mr James was still listed as a colliery agent.
On the 1861 census Mr Edmund James and his wife Ann James, listed as landed proprietors, were living at Clyn Mawr Farm, Blaenau Gwent. Again this is a bit unclear as on the same census Mr Daniel Lewis and his wife Mrs Harriet Lewis, listed as land proprietors of Abertillery living at Clyn Mawr Ganol. In 1871 Mr and Mrs Daniel Lewis were living at Clyn Mawr Uchaf and later living at Neuadd House, Blaenau Gwent.
In 1867 Mr Edmund James and his son Edmund James junior held the lease to mine coal and quarry stone at the Rhiw Park area, Abertillery. They had the lease from the Brynmawr Iron & Coal Co.
Mr Alexander James.
In 1881 Mr Alexander James and his wife Mrs Eliza James were living at Clyn Mawr Ganol. Mr Alexander James, born 1848. His wife Mrs Eliza James nee Whitcombe, born 1846 and their children – Master Edmund Whitcombe James, born 1880 and Miss Edith Maria Ann James, born 1881. Mr Alexander James was a member of the Abertillery Local Board and as stated was the first timber merchant at Abertillery, his business was at Bridge Street, by the Railway Inn and later purchased by Mr Arthur Tilney who turned it into the largest timber business in South Wales and called it the Abertillery Steam Saw Mills.
Mr Alexander James and family left Abertillery in the late 1880's to reside at Monmouth. Upon their departure Rev Thomas T. Evans took residence at the Clyn Mawr Ganol, Rev Towy Evans was the Baptist Minister who had come to Abertillery in 1882, he was living at the Manse Ty Bryn, though what he was doing at the Clyn Mawr Ganol in 1891 is a mystery.
In the late 1890's Mr William Roderick Haylings and family were living at the Glyn Mawr Ganol.
Mr W. R. Haylings and The South Wales Gazette.
Mr William Roderick Haylings, born 1859 at Cheltenham Gloucestershire and his wife Mrs Selina E. Haylings, born at Staffordshire were living at Clyn Mawr Ganol, Blaenau Gwent with their children – Mr William Carlyle Haylings, born 1881 at Brighton with his wife Lavinia Haylings. Miss Emma M. Haylings, born 1883 at Nottingham (School Governess). Mr Paul Haylings, born 1885 at Nottingham and Mr David Haylings, born 1887 at Preston Lancashire.
Mr William Roderick Haylings was originally from Cheltenham, he was a printer by trade, his father before him and his grandfather Mr Thomas Willey was said to have been the first printer at Cheltenham. Before coming to South Wales Mr Haylings had travelled the length and breadth of the country in connection with his employment. 
In the mid 1890's Mr W. R. Haylings came to Abertillery and was manager for Mr Alf Durrant the owner of the South Wales Gazette based at Carlyle Street. Mr Durrant owned and edited the paper while Mr Haylings printed it. In 1896 Mr Durrant retired, Mr Haylings bought the business and the printing works which was later moved into Carmel Street Abertillery. The Hayling family moved into Clyn Mawr Ganol at Blaenau Gwent.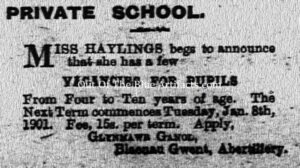 Miss Emma M. Haylings Private School.
In January 1901 Miss Emma M. Haylings started a private school at the Ganol and was advertising for pupils (as seen left) There were vacancies for children aged 4 to 10 years of age. The term began on Tuesday 8th January 1901.
In 1902 Mr William Roderick Haylings sold the South Wales Gazette to Mr P. Wilson Raffan and left the area to live at Pontypridd.
The Death of Mr Alexander James.
In January 1900 Mr Alexander James passed away at his residence at Monmouth. His body was taken by train to Abertillery where he was buried at the Blaenau Gwent Baptist Church. Rev Thomas Towy Evans was back living at the Manse, Tyr Bryn.
In the early part of the 1900's the grounds of the Clyn Mawr Ganol was used for the backdrop of many sporting team photographs.
Mr and Mrs Charles Diamond Williams.
In 1904 Mr Charles Diamond Williams passed away and his obituary stated he was living at the Clyn Mawr Ganol as a grocer, he had been a baker under Mr Titus Phillips. After his death Mrs Margaret Williams continued to live there with her sons Mr Charles Albert Williams, born 1884 employed as an out-rider for the Co-operative Society and Mr Lewis Edgar Williams, born 1886 a colliery engineer.
In 1931 Mr Charles Albert Williams and his family were still living at Clyn Mawr Ganol. In this year his son Master Albert James Williams 11 years of age won a free scholarship into Cirencester Grammar School, tenable until 19 years of age.
In the mid 1930's a Mr Jones was renting the Clyn Mawr Ganol though it later came into the possession of the Oulton family and in 1936 the proprietors of Clyn Mawr Ganol were listed as being Mr Llewellyn Oulton and Mr Geoffrey Oulton.
In 1936 Mr and Mrs Llewellyn Oulton and his family were living at Clyn Mawr Ganol. The house can clearly be seen (centre) of the image below, surrounded by trees.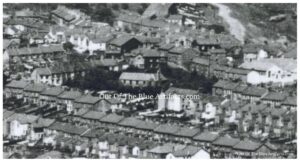 Mr Llewellyn Oulton.
Mr Llewellyn Oulton, born Nantwich, Cheshire and his wife Martha Oulton nee Wellings born at the same place, married in 1910 at Nantwich, Cheshire. They had a son Master Wilfred Ewart Oulton, born 1911 at Cheshire and Master Geoffrey Oulton, born 1914 at Cheshire. In 1919 Mr Llewellyn Oulton came to Abertillery joined the staff of the Intermediate School and was a master of chemistry and also a lecturer.
In 1925 the Oulton family were living at 31 Granville Street, Abertillery.
In June 1925 Mr Geoffrey Oulton secured a scholarship at Hereford Cathedral School, he was previously a pupil at the Church School, Abertillery.
In October 1927 Mr Wilfred Ewart Oulton won an examination with a three year scholarship at the Technical College, Cardiff. He had previously been a pupil at the Intermediate School, Abertillery.
In July 1928 Mr Llewellyn Oulton purchased the "Briars" Gladstone Street for £415. In February 1933 he purchased 5 Royal Lane, Abertillery for £110.
In 1934 Mr Geoffrey Oulton was the proprietor of the "Ace Of Spades" Motor Garage, Gladstone Street, Abertillery.
Upon leaving school Mr Wilfred Ewart Oulton trained for the Royal Air Force at Cranwell, became a flying officer and was later based in Malta.
As stated the Oulton family moved into the Clyn Mawr Ganol in about 1936.
The Later Years.
The Clyn Mawr Ganol was reconstructed at some point and occupied up until the 1960's when it fell into disrepair and was eventually demolished and rebuilt as a Nursing Home called Grosvenor Nursing Home. It was later renamed Penybont Care Home.