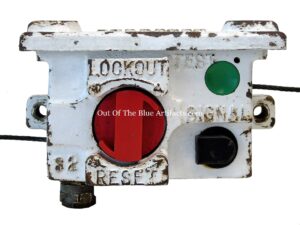 Colliery Lock-Out Key – Lock Out Box.
A colliery lock-out key – Lock out box. Made by Stedfast Electrical Controls Ltd. Type S-2.
Made from cast iron, plastic and brass. Size 8″ x 5″ x 5″ inches. Date 1970's.
Commonly known as lock-out boxes.
These lock-out boxes were bolted to the framework of conveyor belts (about fifty yards apart) and Panzer Scraper Chains and connected to each other by long lengths of wire (as seen in the main featured image above) If the conveyor belt or scraper chain had to be stopped for any reason such as for safety or maintenance you had to pull the wire, or if you were close to the box just turn the red switch on the front of the unit.
The lock-out box that was activated would "lock out" the power to the conveyor, a red light would show on that box switch and the conveyor belt could not be restarted until the that particular box was located and manually reset. The red light would show up in the dark and show which box was locked out.