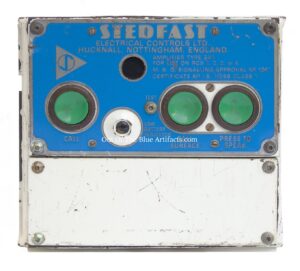 Colliery Tannoy – D.A.C.
Colliery Tannoy – D.A.C. Armoured Colliery Tannoy. Stedfast Electrical Controls Ltd. Hucknall, Nottingham, England. Model SA-1. Made from Iron, Rubber and Brass. Size 10″ X 7″ X 6″ inches. Date 1970s-1980s.
These Tannoys were located at all major transfer points, headings and coal faces etc and used for communication between such places and the surface Control Room.