Crumlin Viaduct – A Commemorative Three Piece Tea Set.
This tea set comprises one cup, a saucer and a small tea plate. It has a transfer print of the Crumlin Viaduct one the front of the cup and on the tea plate.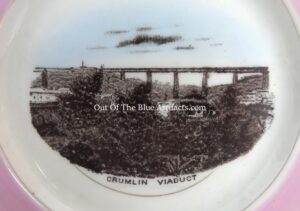 Made from porcelain china.
Size – Cup 3″ x 3″ inches. Saucer – 5″ inches. Plate 6″ inches. Manufactured in West Germany. Dated circa 1900.