Cwmtillery Colliery Closure Commemorative Tie.
This tie was issued upon the closure of the Cwmtillery Colliery – Abertillery New Mine Cwmtillery Section in 1982. The sinking date is wrong and there is a lot of misconceptions about this however the correct date of sinking is 1842.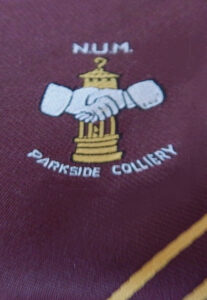 The Cwmtillery Colliery commemorative closure tie was not designed by anyone local to the area, it was a factory "stock design" with the same pattern being used on many other ties that was being produced throughout the 1980's and later. The tie (as seen in the image left) was produced for the Parkside Colliery N.U.M and a few were used for the Nott's Area National Union of Mineworkers, to name a few.
There was also a double sided commemorative medallion issued at the same time and again that was stamped with a stock image used by many collieries at the time of their closures.