Mr D. F. Pritchard – Ale and Porter Bottle, Crumlin Brewery.
As with most breweries they had quite a few different design beer bottles, I am not too sure about the bottle designs of Mr Pritchard's Brewery though know that he had various stoneware bottles and a few glass bottles such as brown coloured flagons with the internal screw tops.
Size 7″ x 3″ inches.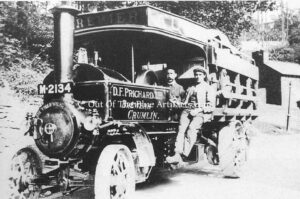 Mr D. F. Pritchard used to have his products transported around the pubs and inns in his own steam powered lorries (as seen in the image left).
This is a different design pattern bottle with a full name and coat-of-arms body transfer print.