Mr D. F. Pritchard – Ale and Porter Bottle, Crumlin Brewery.
As with most breweries they had quite a few different design beer bottles, I am not too sure about the bottle designs of Mr Pritchard's Brewery though know that he had various stoneware bottles and a few glass bottles such as brown coloured flagons with the internal screw tops.
Size 7″ x 3″ inches.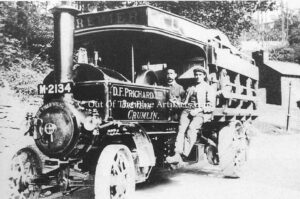 Mr D. F. Pritchard used to have his products transported around the pubs and inns in his own steam powered lorries (as seen in the image left).
This bottle has the shoulder transfer print.