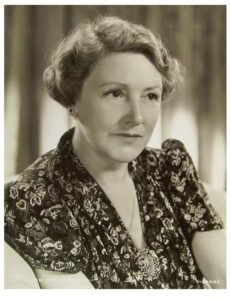 Gaby Fay.
Gaby Fay was Dorothy Fay Hammerton (Born 26th September 1893 – Died 23rd June 1973). Dorothy Fay Hammerton was professionally known as Fay Holden, a British born American based actress. She was known as Gaby Fay in her early career.
Born in Birmingham, England Gaby Fay later travelled and performed in many theatres during her early career. In 1914 she married Mr David Clyde. In the late 1920's she moved with her husband to Vancouver, British Columbia, Canada and later moved to Hollywood.
Fay Holden (as seen left) appeared in forty-six motion pictures between 1935 and 1958 and was best known as Emily Hardy in the Andy Hardy film series. She also appeared as Hazel, the mother of Samson in the film Samson and Delilah along with Victor Mature.
Fay Holden passed away in Los Angeles, California on 23rd June 1973 at 79 years of age.
(More information to come).