Garages and Motor Cars.


The first Garage and Motor Car dealer advertised in Abertillery was Mr H. J. Collier in April 1903. His premises were in Carmel Street though on the 26th June 1903 he had moved to No66 Cwm Street, Abertillery.
Over the years Messrs Collier changed addresses, in 1908 they had moved to No's52 and 54 Somerset Street or this may have been the same premises as No66 Cwm Street as this street was known as Somerset and Cwm Street. In 1915 they were operating from No56 Somerset Street and in 1938 at No34 Hill Street, Abertillery.
The Motor Vehicle Act 1903.
Within the act The Monmouthshire County Council informed all District Councils in 1904 that there should be no interference with the act of 1903. The County Council asked the Surveyor to be supplied with all dangerous roads in the district and all narrow corners with a view to the speed of motor cars to be regulated. The sections of the act which affected the Council were No 8 and 9 which were the prohibition of motor cars on special roads and the reduction of speed.
In January 1904 at a meeting of the District Council a letter was read from the Monmouthshire County Council calling attention to the Motor Car Act of 1903. Mr Jacob referred to the maintenance of the roads, he stated they were used and damaged by means of motor cars and the Council did not receive any taxes from the owners. He had consulted with Mr Gustard and Mr Tanner in a way of getting the County Council to take over the main roads.
In 1904 the District Council were spending £350 per year on road maintenance, if the County took over this would relieve them of 3 and a half pence in the pound. Mr Southwood Jones replied that "this would be the start of a tax on motor cars". Mr Jacob replied "that would be a matter that should be brought forward at the County Council Association – who could pass a resolution and submit it to Parliament. The question was then dropped!
In the same month a letter from the Clerk to the St Mellons Rural District Council applying to the Local Government Board under section 8 of the motor car act 1903 for regulations prohibiting the driving of motor cars on highways less than 16 feet in width.
On April 19th 1904 Mr Leon Vint, a Theatrical performer from Ebbw Vale was fined £1 and costs when he was charged at Brynmawr for not making his presence known by blowing a whistle or sounding a horn when driving through Beaufort Street, Brynmawr. The Police Officer also said Mr Vint had been speeding at between 4 and 5 miles per hour.
In August 1906 Mr G. Little of the Abertillery Council asked the Surveyor to ascertain the cost of purchasing Motor Cars with a view of establishing a motor car service in the district.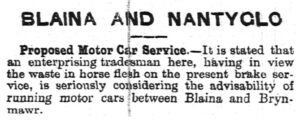 This was not a new idea as in May 1900 a Business man from Brynmawr proposed to run a Motor Service between Brynmawr and Blaina as seen on the advert (right). 
Many people wanted to come to Abertillery though the G.W.R had refused to built a station at Six Bells and the train service was stretched. He stated that every train was full and as many as 18 people were in each single compartment. Shoppers were put off by the overcrowding. The proposed motor car service would operate between each station and transport people into Abertillery. The motion was carried.
In 1909 Mr George Sutcliffe of No22 Church Street, Abertillery was advertising Garage Motor Repairs at his premises. Mr Sutcliffe had started off as an Electrical Engineer in Cardiff and came to Abertillery in January 1904. He bought a plot of land at Foundry Lane, Abertillery upon which he erected a shed for £45 with the intention of catering entirely for electrical work. He later found he couldn't obtain sufficient business and took up Cycle, Motor Cycle and Phonographic repairs and also dealt in the articles. He later purchased a motor bus for £96 but found it was out of repair and was not strong enough for the hills in this district.
In December 1909 there was a court case at Abertillery concerning a local Builder who had asked a driver to take a car on a journey. He was stopped and checked and was charged under article 4 of the Motor Car Order 1903 for – Not being licensed, not giving notice of change of ownership, using a car without it being registered and fraudulently using a Register Mark. The Builder was fined £20 and the driver fined £5. The fines included court costs and the magistrates said it could have been a total of £90.

In September 1912 Ralph & Sons were operating with Motor Cars. Mr S. Ralph was later at Market Street owning a Fish & Chip business and in 1906 set up a Haulage service at the Station Road area with an Aerated Water factory at Brynteg, Abertillery. Mr Ralph later owned a Social Club and ran a very successful Omnibus service.

In 1915 Mr J. Chivers opened a Motor Garage in Alexandra Road, Six Bells, Abertillery and a branch in Tredegar. Mr Chivers had previously worked for Messrs Ralph & Sons. His private address was No61 Princess Street, Abertillery.

In 1916 Mr Fred Adams Car & Assessories Penrhiw Garage High Street, Abertillery.
In 1919 Mr Sam Thorne had a Private Car Hire service operating from the Lamb Inn, Abertillery. In the same year Mr Gittins was also providing a Private Car Hire service from the Glyn Mawr Hotel, Blaenau Gwent, Abertillery.
In 1919 Mr Harry Jay was a Motor and Cycle Agent based at No36 Gladstone Street, Abertillery.
In 1920 Mr Norman D. Williams also had a Car Hire service at Colwell Garage, No11 Alma Street, Abertillery.
In 1919 The Tillery Road Garage were advertising Tours. Tillery Road Garage agents were based in No94 Tillery Street and at No40 Gladstone Street.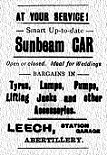 In 1921 there were advertisements for Sunbeam Cars at "Leech" Car accessories (as seen in the advertisement right) at Station Garage, Abertillery.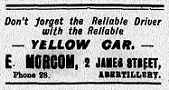 In 1921 there were advertisements for a Car and Driver service called "The Yellow Car" the service was owned by Mr E. Morcom based at No  James Street, Abertillery.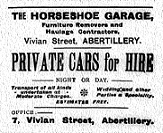 In 1921 The Horseshoe Garage was being advertised as Hauliers & Car Hire based at No7 Vivian Street, Abertillery.

In 1921 Mr R. P. Jones appeared and advertised as Car Hire and General Haulier Removers based at Carlyle Street Garage, Abertillery (as seen right).
In 1925 Erne Wilson had a Motor Garage in Alexandra Road, Six Bells, Abertillery.

In 1933 The Ace Of Spades Garage was open, advertising Saloon Cars, based in Gladstone Street, Abertillery. It advertised any make of car supplied, the Manager was Mr F. Brearley. Car prices were as follows – Morris Oxford Coupe £15. A 1931 Austin 7 Saloon C.B. £35. A 1928 Austin 7 Saloon (new engine) £45. A 1927 Morris Cowley Saloon £25 and a Motor-Cycle Combination for the price of £16.

In 1934 Mr A. E. Powis had a Motor Repair Garage "The Castle Garage" Castle Street, Abertillery. He also sold Petrol at 1 Shilling 2 and a half Pence – £3.90 in today's money.
In 1934 the County Garage was advertising and owned by Mr Frank L. Adams.
In 1935 Erne Wilson advertised he had a Motor Garage in Alexandra Road, Six Bells and another in Gladstone Street, Abertillery and that he was selling the Ford Popular motor car for £115.
In 1938 Collier's Garage now at No34 Hill Street, Abertillery were advertising that they were the main Morris Dealers for the Abertillery District and that they were selling the "Morris 8" motor car. Prices and details were as follows – 2 Door Saloon £128. 4 Door Saloon £139. 2 Seater Tourer and 4 Seater Tourer £132 and 135 respectively with Tax at £6.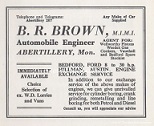 In the 1940s Messrs B. R. Brown had a Garage close to the Foundry Bridge, where the Cwm Calon Doctors Clinic is today. They operated from there until the 1970s. 
(More information to come).