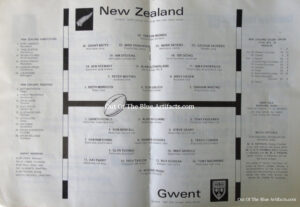 Gwent versus New Zealand All Blacks.
The Welfare Sports Ground Ebbw Vale.
Date Tuesday 28th November 1972.
Forty page rugby programme by the Monmouthshire County Rugby Football Club. An official programme original price ten-pence.
 I have tried to decipher most of the players who signed the cover – Alun Pask; S. G. Skudder (Waikato); Glyn Turner (Ebbw Vale); Arthur Lewis; Tane Norton (Canterbury); Lin Colling (Otago); Jeff Matheson (Otago); Graham Evans (Ebbw Vale) and Andy Haden (Auckland) with a few more illegible:
Most of the team were from Ebbw Vale and Pontypool, the reserves Ray Gladwyn, and Martin Brickell were from Abertillery, Mike Paul from Ebbw Vale and Alun Tucker from Blaina.
This programme was kindly donated by Mrs Judith Chamberlain.