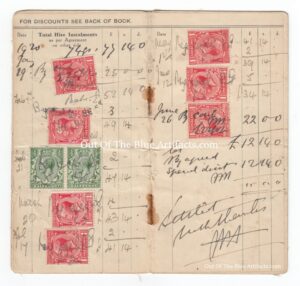 Harmstons Music Stores – Hire Instalment Book.
This book was from the Pontypool branch of the Harmstons Music Stores Company.
It was the hire instalment book belonging to a Mr Godfrey Griffiths of Garndiffaith, Pontypool.
Book size is 6″ x 3″ inches.
Dated 19th January 1920.
This hire instalment book was kindly donated to the site courtesy of Mr Arthur Bradford of Cheltenham, Gloucestershire.
Harmstons Music Store.
The Harmston Music Warehouse Company was established at No.1 Nicholas Street, Pontypool in 1887 by Mr Albert Edward Harmston of Sleaford, Lincolnshire, England. The company specialised in pianos and organs. In about 1890 the music store was taken over by Mr J. J. Harmston of Penygarn, Pontypool, Monmouthshire.
In 1903 Harmstons & Co advertised they were also trading from Cinderford and Aberdare.
Harmstons & Co at Abertillery.
In May 1903 Harmstons & Co established a music warehouse at Church Street, Abertillery at the corner premises opposite where the Coffee Bean is today. The block of shops where Harmstons & Co was situated was built on land originally leased by Mr John Ward Williams and Messrs Edmund Thomas Hale & John James Hale, both areas held on lease from January 1874. Mr John Ward Williams was the iron founder who owned the iron foundry in the valley behind Church Street from 1875. Mr Edmund Thomas Hale was a medical surgeon living at High Street, Abertillery and his son Mr John James Hale who was also a medical practitioner.
The Carmel Street Store.
In October 1910 Harmstons & Co, Church Street, Abertillery wanted to expand their business in the town and secured the old stationers shop of Mr M. Williams in the Carmel Buildings, Carmel Street, Abertillery. Harmstons & Co Music Store used the Carmel Street premises as a "Harmstons Complete Home Furnishing Store" selling items from chairs, tables, chests of drawers to jardinieres etc.
The stores at Abertillery were closed in the 1930's.