Harmstons Music Store.
The Harmston Music Warehouse Company was established at No1 Nicholas Street, Pontypool in 1887 by Mr Albert Edward Harmston of Sleaford, Lincolnshire, England. The company specialised in pianos and organs. In about 1890 the music store was taken over by Mr J. J. Harmston of Penygarn, Pontypool, Monmouthshire, the younger brother of Mr A. E. Harmston and was later situated at Crane Street, Pontypool.
Mr Jessie James Harmston.
Mr Jessie James Harmston, born 1859 at Sleaford, Lincolnshire and his wife Mrs Elizabeth Harmston, born 1859 at Retford, Nottinghamshire, settled at Pontypool. They later had children – Master Edgar James Harmston born 1892, Mr Edgar James Harmston was an engineer and bridge builder. Miss Evelyn R. Harmston born 1895 and another daughter (no details), one of the daughters later married into the Cory Bros Family, the South Wales Coal Owners and lived in Brazil, her husband was a coal agent for the company based at Pernambuco, Brazil. 
In May 1891 Harmstons & Co were at Crane Street, Pontypool advertising pianos between £4. 10s. 0d and £16. 16s. 0d. American organs between £5. 10s. 0d. and £8. 17s. 6d. and harmoniums at £3. 3s. 0d.
In 1903 Harmstons & Co advertised they were also trading from Cinderford and Aberdare.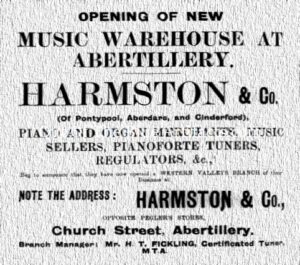 Harmstons & Co at Abertillery.
In May 1903 Harmstons & Co established a Music Warehouse at Church Street, Abertillery (as seen on the main featured image above) at the corner premises opposite where the Coffee Bean Café is today.
The block of shops where Harmstons & Co was situated were built in 1902 after the older buildings occupying the site had been demolished. They were built on land originally leased by Mr John Ward Williams and Messrs Edmund Thomas Hale & John James Hale, both areas held on lease from January 1874. Mr John Ward Williams was the iron founder who owned the Abertillery Iron Foundry in the valley behind Church Street from 1875. Mr Edmund Thomas Hale was a medical surgeon living at High Street, Abertillery and his son Mr John James Hale who was also a medical practitioner.
The manager of the store at Abertillery was Mr Harold Trevor Fickling, a certified piano tuner, M.T.A. At this time Harmstons & Co advertised they were selling – Brinsmead and Collard Pianos, Kars & Bell and Waldemar Organs in connection with the Karn Organ Company.
Mr H. T. Fickling.
Mr Harold Trevor Fickling the general manager of the Abertillery Store was born in 1878 at Pontypool, his wife was Alice Gertrude nee Irving, they later had a son Master Harold Irving Fickling, born in 1906 at Abertillery.
In September 1903 the company advertised their contact information for Abertillery and stated the customer could "write, call or telephone – P.O. 52".

The Graphophone.
In October 1903 Harmstons & Co, Abertillery advertised they were selling the "Graphophone" invented by Alexander Graham Bell, with machines retailing at £2. 12s. 6d. equivalent to £307.26 in today's money.
In July 1904 Harmstons & Co Abertillery were selling the "Nicole Unbreakable Disc" to be used on Gramophones, Zonophones and Graphophones and any other disc playing talking machines.
Mr Tom Stephens.
In September 1904 Mr Tom Stephens was teaching voice culture and artistic singing at Harmstons & Co Music Warehouse, Abertillery. He was present at the store on Mondays and Saturdays.
In July 1905 Harmstons & Co were advertising that they were giving away Rembrandt art engravings free with any piano purchased at their stores.
In October 1905 "Talking Machines" and "Records and Fittings" were advertised for sale at Harmstons & Co. They were called Edison Indestructible Cylinder Records – 6d. each with a two minute playing time.
In November 1905 Harstons & Co were selling melodeons, concertinas and mouth organs. They boasted a range of musical instruments from the penny whistle to a grand piano.
In December 1907 Harmstons & Co were selling "Edison Phonographs" with a range of prices from £2. 2s. 0d. to £6. 6s. 0d. Needles were 5d. or 9d. for 200 and the Gramophone – "King of Talking Machines" from £5. 10s. 0d. to £10. 0s. 0d.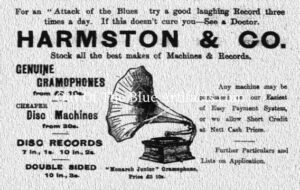 In November 1908 the four-minute record made its appearance at Harmstons & Co, Abertillery. Prior to this the cylinder and early discs had a normal playing time of only two minutes. The four-minute record was advertised as a great improvement.
In September 1908 Harmstons & Co advertised free train fares to those customers living anywhere in South Wales who came to the store and purchased a piano or an organ. It was often mistakenly believed that only Bon Marche offered this incentive but most shops and stores at Abertillery gave a return train fare home, to customers who purchased goods at their stores over a certain price.
The Carmel Street Store.
In October 1910 Harmstons & Co, Church Street, Abertillery wanted to expand their business in the town and secured the old stationers shop of Mr M. Williams in the Carmel Buildings, Carmel Street, Abertillery. Harmstons & Co Music Store used the Carmel Street premises as a "Complete Home Furnishing Store",  selling items from chairs, tables, chests of drawers to jardinieres etc.
In October 1913 Harmstons & Co Music Store was selling Brinsmead pianos at £39. 10s. 0d. Collard & Collard pianos at £23. 10s. 0d and the Kirkman over-strung piano at £19. 10s. 0d. equivalent to £4,280. 20 to £2,071,00 in today's money.
In March 1921 Harmstons & Co had become a Limited Company and became the sole agents for H.M.V. machines and records. Mr Edgar James Harmston, son of Mr J. J. Harmston was secretary and director of the Harmstons & Company Limited. Mr Thomas Thomas was the store manager and Mr A Morris the manager.
In November 1921 a Gramophone Salon was built at their Church Street Store, Abertillery. It was advertised as a private auditioning room where you could listen before you buy, with an extensive range of music machines and record.
In April 1923 Harmstons & Co Ltd were stocking the "Marconiphone" a long range u2 model capable of receiving stations from Cardiff to Glasgow. The sets were £24. 0s. 0d. each, equivalent to £1,298.40 in today's money.
In the mid to late 1920's Mr Raymond Harris was Manager at the Harmstons & Co Ltd store at Abertillery. Mr Harris was also an active member of the British Legion.
In September 1923 Harmstons & Co Ltd became agents for Columbia Records and Gramophones. Throughout the 1920's and maybe earlier Harmstons & Co Ltd generously loaned pianos and organs etc to various organisations and clubs etc in connection with fund raising concerts and shows, free of charge.
In September 1927 the premises once occupied by Harmstons & Co Ltd for their warehouse at Church Street, Abertillery was put up for sale. It was described on the sales sheets as being 865 sq feet in size.
Messrs Harmstons and Co Ltd became known as just Harmstons Ltd and was reported as such in many later news reports.
In September 1930 Harmstons Ltd were agents for His Masters Voice, Columbia, Dulcetta and Decca Records.

In September 1930 Harmstons Ltd posted one of its last advertisements (as seen right) after this date the music store went unreported and not featured in any known local newspapers. I'm not sure if they ceased or continued trading? More research will have to be done after the 1930's.
In July 1931 Mr Raymond Harris the manager at Harmstons Ltd Abertillery left the district.
On Monday 5th February 1940 the Western Mail Newspaper announced that Mrs Elizabeth Harmston had passed away at her home at Glenvellyn, Penygarn, Pontypool on the previous Saturday.
Mr Robert George Meadows Harmston.
In October 1940 The Western Mail Newspaper reported – Mr R. G. M. Harmston the son of Mr Edgar J. Harmston and grandson of Mr J. J. Harmston, founder of Harmstons Ltd Music Store was sadly killed in action at Norway in World War II. Information was received from the Air Ministry and the American Consul, that Pilot Officer Mr Robert George Meadows Harmston, of Sherwood, Malpas, Newport and late Pontypool was killed in action in Norway.
The American Consulate stated that Pilot Officer Harmston was one of three British airmen killed and they were buried at a hillside chapel overlooking Bergen. It also mentions the fact that wreaths were laid at the graveside by the American Consul, the German Consul, General von Kuchler and a representative from the German Flying Division. German Airmen presented arms at the graveside.
The British and German Airmen Question.
What I find intriguing is that the American Consulate were in Norway, they attended the funeral of the airmen with no British representatives. Also why did General Von Kuchler attend the funeral with a German representative and a German presentation of arms at the graveside of British airmen with whom they had been fighting against? It had been reported that General Von Kuchler had been Hitlers right-hand man. It is puzzling as to why the Germans attended the funeral along with the Americans (who were not even involved in the conflict at this early time) with such important dignitaries at the graveside in the mountains of Norway? 
Notes of Interest – Attempts to design some sort of music making machine began in the late 1870s. In 1877 Mr Thomas Edison invented a tin-foil phonograph which played recorded sounds from a cylinder, the sound it produced was of bad quality and only lasted one play. A short while later Mr Alexander Graham Bell invented the Graphophone, capable of playing music from wax cylinders which could be played many times, the only drawback was each cylinder had to be recorded individually making mass production impossible.
In 1887 Mr Emile Berliner patented a system of recording on records as we now now them. Sound information was etched into the disc though a spiral groove, the record was spun on a turntable and a needle connected to an arm was placed into the groove, the vibrations would travel up through the needle, across the arm and into a horn shaped speaker built into the machine. These early records were capable of being massed produced and at this time Mr Emile Berliner established the Gramophone Company.
In 1908 Emile Berliner first used a painting by the artist Mr Francis Barraud of a dog named Nipper listening to a Gramophone called His Masters Voice as the company's official trademark. Later Mr Berliner sold his patent for the Gramophone to the Victor Talking Machine Company R.C.A. This rapid development in music and sound recording took place over just a few years and Harmstons Music Store, Abertillery, introduced the people of the town to it all.