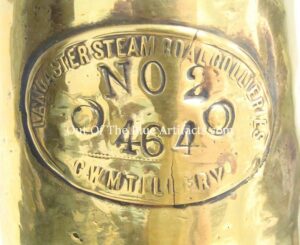 The Cwmtillery Colliery Lamp.
This lamp is of the "lockable" design, to stop the miner opening it underground. It has the 5th false sliding pillar to lock the bonnet and the stamp of the "Three Feathers" above the name plaque.
This lamp (seen in the featured image top and left) is from the Cwmtillery No2, stamped 464 on the plaque and the base making it all original as-made. Size is 9″ x 3 1/2″ inches. Made from Brass and Iron.
John Lancaster Steam Coal Collieries – Cwmtillery Colliery Lamp. Mr John Lancaster Collieries Company first had connections with the Blaina Collieries in the beginning of March 1878, at this time it was announced that Messrs John Lancaster & Co would be taking control of the Blaina Collieries on lease from the Nantyglo & Blaina Co. On the 16th March 1878 Mr John Lancaster paid a visit to Blaina to inspect the collieries and on the 23rd March it was reported that the collieries were now in the possession of the Lancaster company.
In July 1888 the company gained control of the Roseheyworth and Cwmtillery Collieries under the name of Lancaster & Spier. Spier was a Lancaster family member and was only involved with the company for a short while before Lancaster took full control of both collieries.
They had the Lake Villa's built for the managers and had lamps produced for their own pits, No1 & No2, (the 3rd shaft was just for ventilation) and also Roseheyworth Colliery lamps.
The company later sunk the Six Bells Griffin No4 & No5.
In 1892 the Lancaster Co opened the Brickworks in Blaina and started producing their own bricks.