Marenghi's Cafe History.
In 1891 the Italian Guiseppe Tidaldi came to England, he set up in a partnership with Antonio and Louis Bracchi, his wifes cousin's from Italy, they purchased a cafe in Newport in 1896 under the name of Bracchi & Co.
In 1897 Guiseppe Tedaldi opened a cafe in Blaina and Blaenavon as Bracchi & Co but their partnership was dissolved in this year, Guiseppe Tidaldi kept the two cafe's going.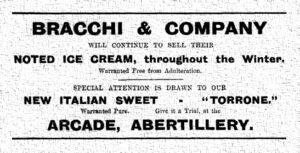 Messrs Antonio and Louis Bracchi.
In late 1898 Antonio and Louis Bracchi came to Abertillery and opened a cafe ice cream parlour in the newly built Arcade – Number 5 the Arcade, High St, they also at this time had cafe's in Abercarn, Newbridge and Newport.
Mr T. Tidaldi.
In 1902 the Bracchi Bros moved from the Arcade to 6 Market Street, Abertillery. The Arcade premises were taken over by Mr G. Tidaldi though it seems as though the Bracchi Bros still owned the Arcade cafe 5 High Street.
In May 1903 the Bracchi Bros and the Tildaldi's were fined for obstructing the main street in Abertillery with their ice cream carts while selling ice creams and potatoes in the town.
In late 1903 Messrs Tidaldi was a company and Mr George Tidaldi was fined for selling ice cream from a cart which did not have his name written on the side.
Messrs Berni Bros.
In 1910 the Messrs Berni Brothers had taken over the Arcade Cafe and a cafe in Somerset Street, Abertillery.
In 1911 Messrs Tidaldi & Co went bankrupt.
In 1921 the Berni Brothers still had the Arcade Cafe.
Mr Louis Carpanini.
In August 1923 Mr Louis Carpanini was the proprietor of the Arcade Cafe.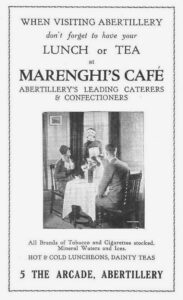 Mr Emilio Marenghi.
By the late 1920's the Arcade Cafe at 5 High Street, was in the hands of Mr Emilio Marenghi, it was a cafe ice cream parlour, teas, and other hot beverages and also sold tobacco products. Mr Marenghi married Miss Sally Morgan of 98 Oak Street Abertillery in December 1931.
In 1932 Mr Emilio Marenghi 5 Arcade Cafe Abertillery went bankrupt.
(More information to come).