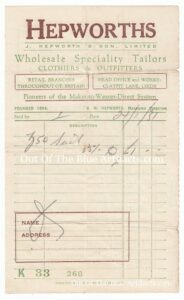 Messrs J. Hepworth and Son.
Mr Joseph Hepworth was born in 1834 at Lindley, Huddersfield, England.
In 1855 Mr Joseph Hepworth married Miss Sarah Rhodes, they had three sons and four daughters.
In 1864 Mr Hepworth went into partnership with Mr James Rhodes, his wife's brother. They began a business of making gentlemen's three-piece-suits and based themselves in Leeds, England.
In 1867 the partnership of Hepworth and Rhodes as clothing manufacturers was dissolved and Mr Joseph Hepworth continued the business.
In 1878 Mr Norris Rhodes Hepworth became a partner in his fathers business and the firm became known as J. Hepworth and Son. Shortly after they had established a chain of shops to be able to sell the suits direct to the public.
Newport and Ebbw Vale.
The company opened shops in all major towns in the UK. In the trade directory of 1891 Mr J. Hepworth and Sons had shops in Commercial Street, Newport, Monmouthshire and at Market Street, Ebbw Vale.
Abertillery.
Messrs J. Hepworth and Son came to Abertillery in the early 1890's and had a shop at Commercial Street. They were only at these premises until 1895 when they moved to a shop on the junction of Somerset Street and High Street. The Chinese Tea Company took the old premises on Commercial Street.
The Death of Mr Joseph Hepworth.
In 1911 Mr Joseph Hepworth passed away.
A Bull in a Suit Shop!
In January 1921, as three bulls belonging to Messrs Rees and Sons were being taken to the Slaughter House at Abertillery via High Street one of the bulls became agitated and jumped through the window and into the shop of Messrs Hepworth and Son, it caused a great amount of damage before being restrained by the handlers. It was reported that over £30 of stock had been ruined, equivalent to £1,350 in today's money.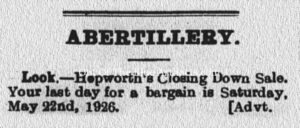 The Departure of Messrs Hepworth.
On Saturday 22nd May 1926 Messrs Hepworth and Son sold their stock and announced they were leaving Abertillery.
Notes of Interest – The Hepworth Company.
In 1981 Hepworth's company bought Kendall and Sons the womenswear chain of stores to compliment their menswear. This new chain was named Next, the first store opened in 1982. By 1985 the name Hepworth was absorbed by this new brand.