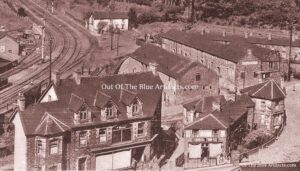 Messrs Twissell Hairdressers & General Dealer.
From the mid 1890's Mr Edwin Twissell and his wife Mrs Emma Twissell carried on a business as general dealers at 4 Commercial Square, Aberbeeg, Monmouthshire.
Mr Edwin Twissell.
Mr Edwin Twissell was born in 1845 at Trevethin, Pontypool, the son of Mr John and Mrs Susan Twissell. Mr John Twissell was a butcher by trade and lived at George Street, Trevethin, Pontypool. Mrs Susan Twissell died in 1851 and John remarried, he moved to the Tranch, Pontypool and carried on his profession there as a butcher with his second wife Elizabeth Twissell.
Mrs Emma Twissell.
Mrs Emma Twissell nee Baker was born in 1853 at Lulsley, Worcester, the daughter of Mr and Mrs John and Catherine Baker of Brockmain Road, Leigh, Worcestershire. Mr John Baker was from Gloucester and Mrs Catherine Baker was from Devon.
Mr Edwin Twissell married Miss Emma Baker in 1873 they both lived at Pontypool for a short while before moving to Worcester. In the early 1890's they came back to South Wales and lived at 53 Castle Street, Abertillery. Mr Edwin Twissell worked as a coal miner while at Abertillery and their family were as follows – Miss Flora Twissell, daughter, born 1873. Master Seth Twissell, son, born in 1875. Master Herbert Twissell, son, born in 1879. Master Albert Twissell, son, born 1882 and Master Ivor Twissell, son, born 1894 at Aberbeeg.
In 1893 the family moved from Abertillery to live at 4 Commercial Square, Aberbeeg and opened a general grocery store. The store had an entrance at the rear of the premises (as seen in the main featured image above) at the end of the pack-horse bridge. While at Abertillery Master Herbert Twissell was a barbers assistant, he stayed in that trade and later carried it on at his fathers grocery store at Aberbeeg and the store became known as Messrs Twissell Hairdressers & General Dealer.
The Death of Mr Edwin Twissell.
In 1902 Mr Edwin Twissell passed away at 56 years of age. The grocery store at Aberbeeg stayed in business and was run by the family.
The Death of Mrs Emma Twissell.
In 1920 Mrs Emma Twissel passed away at 67 years of age.
Commercial Square, Aberbeeg.
On the 1911 census Commercial Square consisted of at least five separate premises as follows – 3 Commercial Square, Messrs James and Gwendoline Jones, confectioners; 4 Commercial Square Mrs Emma Twissell, general dealers; 5 Commercial Square, Messrs Thomas and Sarah Edmunds, general dealers; 6 Commercial Square, Messrs John and Emily Wickham, a colliery worker and Manchester House, Messrs Harry and Minnie Edmunds, drapers: Commercial Square was opposite the Hanbury Hotel, Aberbeeg.
Notes of Interest – Mr Seth Twissell, son of Edwin and Emma was a member of the Aberbeeg Cricket Club from 1894 and played in the team with the following members – Mr Seth Twissell; Mr J. Bowkett; Mr W. Hollyfield; Mr W. Bettys; Mr C. Legge; Mr E. Boots; Mr G. Boots; Mr Parry; Mr T. Webb; Mr Bevan and Mr Bennett:
Mr Seth Twissell was also a keen footballer and on the football committee with the following Mr S. Carpenter (Captain); Mr Seth Twissell (Vice-Captain); Mr H. Rees (Treasurer) and Mr S. Lane (Secretary):