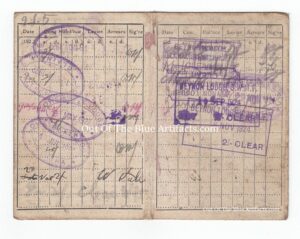 Miners Federation Union Card – Blaina.
This is a Miners Federation Union Contribution Card from the Lower Deep Colliery Lodge at Blaina, Monmouthshire. The card belonged to Mr William Drew. 
The first rubber stamp is dated 18th November 1922 at the Lower Deep Colliery, Blaina and the last stamp in the book is dated 8th November 1924 at the Beynons Colliery, Blaina. The Lower Deep Colliery closed in 1923 and it seems Mr Drew was transferred to the Beynons Colliery and took his union card with him.