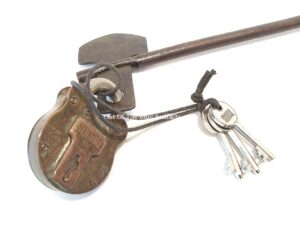 Miners Tool Bar, Cottrell & Pad Lock.
A miners tool bar, cottrell & pad lock.
Made from iron. Size 15″ inches long.
All miners tools had holes drilled through them, the hatchets, picks and sledge-hammers had holes in their handles, the shovels in their blades with holes in the bow saws through their frame. At the end of the shift you would push the tool bar rod through the holes in each tool and lock the bar by placing the cottrell through it and closing the padlock through the hole in the cottrell. Place the locked tools at the work place and leave them underground until the next day. 
This is the item Max Boyce referred to in his lyrics "The Tools Are On The Bar" from his song Rhondda Grey.
This tool bar came from Six Bells Colliery, Abertillery.