Mr Harry Evans – Fruiterer, Poulterer & Grocer Abertillery.
The business began in the mid 1880s when Mr James Mundy, and his wife Martha and family, were living at Abertillery and set up a Fish Monger & Grocery business at No10 Commercial Street, Abertillery, opposite what would become the Arcade. James and Martha had married in 1886 at the Congregational Chapel at Abertillery and had two children – Masters Archibald born in 1888 and William Mundy born 1890. Also living at the address was a Servant Girl Miss Sarah Ann Jones.
Mr James Mundy.
Mr James Mundy born in 1865 at Pontypool was a Fish Monger by trade. He later became a member of the voluntary Fire Brigade at Abertillery during its inauguration in February 1891.
Mrs Martha Mundy.
Mrs Martha Mundy nee Francis born in 1867 was from Bath, Somerset. On coming to Abertillery Martha became a member of St Michaels Church, Abertillery and helped found the St Michaels Church Mothers Union.
Mr Harry Evans.
Mr Harry Evans born in 1869 in Monmouthshire, had began trading as a Fish Hawker at Abertillery in 1895.
In February 1896 Mrs Martha Mundy filed for a divorce from her husband James Mundy.
Mr Harry Evans Grocer, Fruiterer & Poulterer.
In 1897 Mrs Martha Mundy was still in the Business at Commercial Street, Abertillery. She met Mr Harry Evans a short while later, were married in the same year and had two daughters together – Misses Elizabeth (Cissie) born 1897 and Dorothy (Doris) born 1901.
Mr Harry Evans moved into the shop that his wife Martha occupied and renamed it Messrs H. Evans "Grocer, Fruiterer & Poulterer" (as seen in the featured image above).
On the 1901 Census Martha and Harry Evans were at Commercial Street, Abertillery listed as Grocers with their children – Misses Elizabeth (Cissie), Dorothy (Doris), and Masters Archibald Mundy and William Mundy (stepsons). Also resident was a Servant Girl Miss Mary Evans of Abertillery.
In October 1906 Mr and Mrs Evans' daughter Dorothy (Doris) sadly passed away at just 5 years of age.
In 1911 Mr Evans also had a shop in the Alexandra Buildings at Six Bells.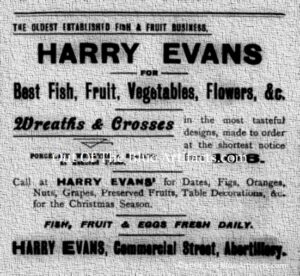 In 1921 Mr Harry Evans shop in Commercial Street , Abertillery was advertised as the "Oldest Established Fish & Fruit Business, selling Fish, Fruit Vegetables and Flowers" etc (as seen on the advert left) . 
Mr and Mrs T. Hughes.
In June 1921 Harry and Martha's daughter Elizabeth (Cissie) Evans married Mr Tom Hughes. Mr Hughes was from Cwm Quarry, Pantydwr, Radnorshire.
In February 1931 Mrs Martha Evans sadly passed away at the age of 64 after a short illness.
In December 1931 just just ten months after the death of his wife Mr Harry Evans was declared bankrupt. The business (as seen below) seems to have been taken over by Mr Evans' son-in-law Mr Tom Hughes!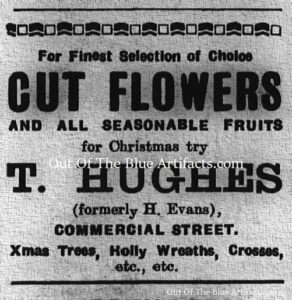 Mr T. Hughes.
Messrs T. Hughes Florists appeared in newspaper advertisements (as seen right) in December 1936. The adverts stated Mr T. Hughes, "The finest selection of choice Cut Flowers and all seasonable Fruits for Christmas". Formerly H. Evans Commercial Street "Xmas Trees, Crosses and Wreaths" etc etc.
(Later information to come).