Mr James McBean.
Mr James McBean was born in 1849 at Beauly, Invernesshire, Scotland, the son of Mr John McBean a publican and auctioneer. Mr James McBean was educated at Inverness and later apprenticed to surveying at Wrexham. He joined the Royal Engineers and became a surveyor in the Ordnance Survey department. Moved to Haverfordwest with the Royal Engineers ordnance-survey, mapping the Pembroke coast and planning railways.
In September 1873 the Pembrokeshire Herald newspaper featured a report on the work of Mr McBean, the engineer engaged in the work on the construction of the new railway from Narberth Road to Rosebush Quarries and his report on the proposed extension of the line from Rosebush to Fishguard. It also gave an extensive report on the proposed extension of the Maenclochog Railway to Fishguard and a report on the proposed Rosebush, Fishguard and Goedic Railway,

Mrs Elizabeth Frances McBean.
In June 1874 Mr James McBean married Miss Elizabeth Frances Phillips of Haverfordwest, at St Thomas Church, Haverfordwest, Pembrokeshire.
Mrs Elizabeth Frances McBean nee Phillips was born 1851 at Haverfordwest, was the daughter of George and Caroline Phillips and sister to Master George and Misses Ann, Martha and Sarah Phillips of Ruther Lane, Haverfordwest, Pembrokeshire.
The main image (as seen featured above) showing Mrs Elizabeth Frances McBean and Mr James McBean with one of their children was kindly supplied courtesy of Mr Neil Evans from Gloucestershire. Mr Evans is a 2nd great-grandson of Mr James McBean.
The Abertillery Local Board.
The Abertillery Local Board was formed in March 1877 with the following gentlemen being its officers – Abertillery Ward, Mr Lewis Richards; Mr Titus Phillips; Mr J. Green; Mr P. A. Williams; Mr Basil Jayne and Mr E. Walker: The Cwmtillery Ward, Mr Joseph Wallace; Mr J. A. Harding and Mr S. Jones: Later in the year while engaged in making a survey of the Newport district, Mr McBean obtained an appointment as surveyor to the Abertillery Local Board and began working at Abertillery in 1878. At this time the Abertillery Local Board was in its infancy and Mr McBean acted as surveyor, clerk, sanitary inspector and collector.
On the 1881 census Mr James McBean lived with his wife Elizabeth Frances and children – Masters Clement born 1877 at Pembroke and Misses Ann Jane born 1878 at Pembroke and Elizabeth born 1880 at Abertillery. The family lived next door to the Lamb Public House on High Street, Abertillery.

From the mid 1880's Mr James McBean and his family resided at the Abertillery Local Board Offices (as seen right) later known as the Abertillery District Council Offices, official address No1 King Street, Abertillery.
On the 1891 census Mr James McBean and his wife Elizabeth Frances with their children – Masters Clement born 1877, William born 1882 and John born 1885 with Misses Ann Jane born 1878, Elizabeth born 1880, and Maggie born 1886. The family lived at the Council Offices, No1 King Street, Abertillery.
As surveyor to the Abertillery Local Board and later the Abertillery Council, Mr McBean planned and superintended the following – The two roads to Cwmtillery, laying of the sewage system, the erection of the Foundry Bridge, the Bush Hill Bridge, the road to Blaina and the road to Six Bells and Aberbeeg. He was architect to and planned many buildings in the town including the Co-operative Store, Church Street, the Six Bells Infants School, the new shops and buildings in Somerset Street, Abertillery in 1892 and the Six Bells Hotel.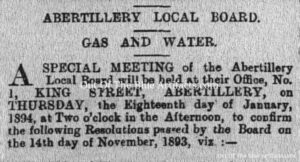 Mr McBean was later manager of the Abertillery Gas Works and Water Works and he oversaw many various projects in the town including these new services was the laying of the new sewage system and the new cemetery project at Brynithel amongst many others.
In April 1893 the Abertillery Local Board re-appointed many of its officials and made public their wages for the coming year. It was announced that Mr McBean as (Surveyor) was on a salary of £225 per annum, on condition he must devote all his time to his work with the Abertillery Local Board, Mr Shepard (Clerk) was on £50 per annum, Dr Williams (Medical Officer was on £40 per annum and Mr John Williams (Inspector of Nuisances) was on £50 per annum.
Mr James McBean's workload at this time was enormous, he came to Abertillery in 1878 when the town was in its infancy and throughout his time working here as surveyor, engineer, rates collector, gas and water manager the responsibilities on his shoulders were unimaginable, he planned and was in charge of most projects that changed the landscape over such a large area in the second biggest town in South Wales, the engineering and building work has stood the test of time and are still part of the infrastructure of the district of Abertillery after all these years.
The Gazette Interview of October 1894.
In October 1894 a local South Wales Gazette newspaper journalist had an interview with Mr James McBean at the Abertillery Local Board Offices at King Street. The following is a brief account of the interview – "The Gazette man was courteously greeted by Mr James McBean and within a few minutes he was assisting in the unrolling of vast rolls of linen and sheets of paper which represented the plans of the alterations to the road from Crumlin to Aberbeeg".
The Road Network.
Beginning at the Crumlin end Mr McBean explained the great difficulties in deviating the roads as of the railway company's land, if the land was taken on the other side it meant they had to remove a school wall and set it back ten feet as the new road was to be constructed not less than twenty feet throughout. A large amount of land was to be excavated by Mr Monks house, a retaining wall to be erected and various alterations along the road by the Royal Oak, the removal of a vast amount of solid rock and a bend at Llanhilleth to be overcome. The big dip in the road at Llanhilleth could not be altered, there is a lot of building work going on and the road must be left as it is. Ten years ago the road would have been easy to deviate but to do so now would necessitate buying a lot of houses, which would make any alterations now impossible. Along from Cwm Court to Mr Stanfield's Cottages a wall of over 600 yards will be built and from Glan-y-dwr Road a high retaining wall to be constructed.
From the top of the railway bridge it will be necessary to deviate the Llanhilleth Road where a 20′ foot retaining wall over 70 yards long will be built, the bottom of the Station approach the ugly bend will be knocked off and the road in front of the Hanbury will be widened. After going through the journey Mr McBean stated the cost will be £5,000 without land and legal charges. The County Council will accept the proposed alterations and will take over the road and it is intended to continue the road from Aberbeeg through Six Bells and into Abertillery. Mr McBean also proposed the construction of a new road from the Tilers Arms at Blaina to Abertillery, the old Nantyglo and Blaina Iron Company would build the road and the local board would take it over.
Sewage Scheme.
The sewage scheme was next to be mentioned where hundreds of pounds had been spent, a large 18″ inch main had been laid from the river under the railway and most of the houses to the south had been connected, it was intended to sewer the north side as soon as he could get on with the work.
Gas Scheme.
Mr McBean reported that tenders had been accepted for the new machinery, purifiers, exhausting machinery etc with new station metres at a cost of £500. They had plans for a new iron gas holder with a capacity of 80,000ft at a cost of £2,600 which if a brick holder was required would be 20 per cent less. To provide for future extensions the Aberbeeg Road would be straightened behind the gas works to a point 400 yards from behind the tin works.
Mr McBean explained how the old gas works had not been efficient, the gas was made and rushed through in such a manner that it was delivered to the consumer whilst still hot. It was this that caused the bad light and smell, he found a large number of lamps were burning gas at 15′ feet an hour instead of five. He had supplied each lamp with governing taps but then found the system full of leaks. He found the company had acknowledged a 45 per cent leakage rate, which he had personally reduced by half, on the question of when gas would become cheaper, he said when the leakage rate was down and the plant more economical.
Water Scheme.
Water, we have so much we don't know what to do with it!… Touching on the water supply Mr McBean said the council were in talks with Mr T. P. Price for the use of his splendid spring water at Six Bells, water pipes were being ordered and the laying of the system would be commenced as soon as possible. From Six Bells, the pipes would go to Aberbeeg and from there to Llanhilleth, at which place they had yet to find any water fit for drinking. The scheme would cost £3,000.
Mr McBean reported the Pontypudden reservoir had 15′ feet 6″ inches of water and was overflowing every day. Blaenau Gwent had plenty of water. Number 3 reservoir on top of the Arael Mountain was in a nice state, it had 6″ inches of water and four feet of mud and a zoological collection that would make the fortunes of a showman in the midst of it. Mr McBean had taken 50 tons of muck out of it and had several cartloads of sand and cement to make it watertight and at present will be overflowing. Number 2 reservoir above Bridge Street was reported as a mystery, pipes connected number 2 and number 3 reservoirs but no water came from number 2!
Mr McBean was to start laying mains water at Rhiw Park, James Street, Bywaters Row and Station Road, all together to serve 110 new houses, the next project was the Cwmtillery Reservoir. The interviewer then thanked Mr McBean for his information and was told in reply that he was always anxious and willing to give all information in his power and to do his best for the place, which is evident from the facts with which this article is full. Floreat Abertillery!
Miss Annie McBean.
In 1898 Miss Annie McBean, daughter of James and Elizabeth married Mr Henry John Bainton of Blaina. In about 1900 they had a daughter Miss Frances Bainton.
Miss Frances McBean.
On Monday 16th April 1900 Miss Frances McBean daughter of James and Elizabeth married Mr William Henry Shore, a boot-maker of Cinderford, Gloucestershire. They lived at their boot shop at 7 King Street, Abertillery.
Mr Clement McBean.
In October 1900 Mr Clement McBean, son of James and Elizabeth became the assistant surveyor for the Abertillery District Council and worked with his father on a salary of £100 per annum rising by annual increments of £5 to £120 per annum, this was with a condition that he must also devote his time to his work and not to accept any private work.
On the 1901 census Mr James McBean and his wife Elizabeth Frances with their children – sons Mr Clement McBean listed as a land surveyor, Mr William McBean listed as a gas fitter and John McBean listed as a butchers assistant with Master George McBean born 1892. With Miss Mary McBean listed as a pupil teacher at the Abertillery Girls School and Miss Maggie McBean born 1886.
On Wednesday 19th June 1901 Mr Clement Phillip McBean married Miss Irene S. Thomas, a Sunday School teacher and daughter of Mr William Thomas, a county councillor of Gold Tops House, Aberbeeg. They were married at the Commercial Road Baptist Chapel, Aberbeeg and spent their honeymoon in Tenby via Haverfordwest, Pembrokeshire.
Mr William McBean.
On Saturday 15th February 1902, Mr William McBean, son of James McBean left for South Africa, he sailed from Southampton to Johannesburg to look for work as a plumber. I'm not sure how long he was in South Africa though he came back to Abertillery and later left again for America, as seen below. Mr William McBean was born in 1882, was educated at the British School, Abertillery and was one of the first students to attend the Abertillery Intermediate Count School. He was also a prominent racing cyclist and won many prizes on the amateur track.
Mr Angus Rowland McBean.
In March 1902 Mr Clement McBean, assistant surveyor at Abertillery became the assistant surveyor for the county council with a salary of £120 per annum, rising to £180. A short while later left Abertillery and and in 1904 his son Angus Rowland McBean was born, in 1910 they had a daughter Rowena McBean and on the 1911 census the family were living at Roseville, Old Hereford Road, Monmouth. Angus Rowland McBean became a set-designer and a famous photographer, he passed away at the age of 86 in June 1990.
In 1905 Miss Mary McBean, daughter of James and Elizabeth married Mr Rufus Moore. Mr Moore was a coal miner from Glamorganshire. By 1911 they were living at 5 Cross Street, Abertillery with their daughter Miss Beryl Moore.
In April 1906 it was made public that Mr James McBean, in his capacity as manager of the gas and water works was receiving £250 per annum with a gas and coal allowance.
On Thursday 20th September 1906, Mr William McBean a plumber by trade who had recently returned from South Africa, again emigrated and sailed for Scranton, Pennsylvania, U.S.A., a farewell party was held where Mr Horler presented him with a meerschaum pipe.
In November 1908 Mr James McBean resigned from his duty as the manager of the gas works stating the excessive work load was putting a strain on his health.
Throughout the early 1900's Mr McBean was appointed to oversee the construction of the new cemetery and chapel of ease at Brynithel, the work was finished and the cemetery was completed just before Mr McBean fell ill.
The Death of Mr James McBean.
On Saturday 10th April 1909 Mr James McBean sadly passed away at his residence. Mr McBean's funeral service was the first held at the new chapel at the new cemetery, Brynithel. A report in the South Wales Gazette stated – The chapel at the cemetery had not been utilised before, so that the first service within it was in connection with the funeral of its constructor!
Upon the death of Mr McBean, Mr Lionel Lewis, the son of Mr Daniel Lewis the late Cwmtillery colliery manager took over as the chief surveyor. Mrs Elizabeth Frances McBean moved out of