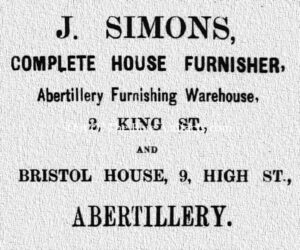 Mr Joseph Simons.
Mr Joseph Simons was born in 1864 at Galicia, Vienna, Austria The family came to Brynmawr in about 1881.
In 1885 Mr Joseph Simons moved to Abertillery and married Miss Prescilla Lyons of Newport, Monmouthshire and opened a furniture business at Abertillery. On the various census records it stated that Mrs Prescilla Simons nee Lyons was born in 1865 at Galicia Poland. 
No2 King Street.
Mr Joseph Simons started a business at number 2 King Street, Abertillery in 1885.
Bristol House.
He later had premises at Bristol House 9, High Street, Abertillery (as seen in the main featured image above) and was advertising his stock as being furniture, carpets, rugs, pictures, clocks, sideboards, beds, pianos, organs and bicycles. He also had a furniture and upholstery repairs service.
The 1891 census shows Mr Joseph Simons aged 27 furniture dealer living at 2 King Street, Abertillery with his wife Prescilla aged 24 and son Master Simon Simons. Living at the same premises were Mr Simons two sisters Miss Gertrude Simons aged 20 and Miss Georgina Simons aged 9, both born in Austria. Mr Arron Lyons, brother of Prescilla was resident. Mr Alfred D. Wells of Abersychan was the servant and assistant who worked as cabinet maker for Mr Simons. Lodging with Mr Simons were Messrs Jacob and Charles Weiselman, both travellers from Austria.
Early Closing Movement.
In December 1891 Mr Joseph Simons was a signatory to the Early Closing Movement at Abertillery. I am not sure of the shops opening and closing times prior to this date though after the towns tradesman's successful petition, which was signed by all but one tradesmen in Abertillery it was stated that – As from January 4th 1892 the new closing times were as follows, Monday 8.00pm: Tuesday 7.00pm: Wednesday 1.00pm: Thursday 7.00pm: Friday 8.00pm: Saturday 10.30pm:
Bar Fittings.
In 1899 Mr Simons began an upholstering service with bar-fittings, billiard room and smoke room seating and furniture.
On Friday 10th February 1899 Mr Joseph Simons was nationalised as a British Subject.
The 1901 census shows Joseph Simons, furniture dealer, living at number 1 High Street, Abertillery, with his wife Prescilla. At this time they had expanded their family to include Master Simon Simons, aged 11. Master Harry L. Simons, aged 9. Miss Amelia Simons, aged 8. Miss Ester Simons aged 6 and Miss Dorothy Simons aged 4. Living at the same premises were Miss Georgina Simons, sister of Joseph. The servant and Assistant at the shop was still Mr Alfred D. Wells, with Miss Mary Barber as a servant girl.
The Steam Laundry.
In June 1902 Mr Joseph Simons was a director of the Abertillery Steam Laundry Company, new Princess Street, later renamed Richmond Road.
Miss Gertrude Simons.
In December 1908 Miss Gertrude Simons married Mr Jack Levitus at the Market Hall, Abertillery.
The Jewish Synagogue.
In 1910 the Jewish Synagogue was constructed at Newall Street, Abertillery. Mr Simons was its founder, he had been planning its construction since 1903.
Following is a Link to – The Jewish Synagogue Abertillery.
Mr Simon Simons.
In 1912 Mr Simon Simons, son of Joseph passed his second examination to become a doctor. At this time he was a medical student at St Mary's Hospital, London. Mr Simon Simons was taught at the Intermediate County School Abertillery.
Freemasonry.
Mr Simons was an active Freemason and was founder and Past Master of the Gwent Lodge. In June 1929 he was invested in London by the Earl of Stradbroke with the office of Past Assistant Grand Director of Ceremonies. He had joined the St David Lodge at Rhymney in 1898 and became Worshipful Master of that Lodge in 1913.Mr Simon was a founder and Past Master of the Tylery Mark Lodge and a founder and Past First Principal of the Gwent Loyal Arts Chapter. In 1907 he was made Worshipful Master of the Ashlar Lodge at Tredegar and held a similar office in the Charles Lyne Lodge at Newport in 1927.
Among other offices he held were – Past Master of the Jasper Tudor Lodge at Newport, Past Principal of the Prince of Wales Royal Arts Chapter at Tredegar, Past Master of the Torfaen Lodge at Pontypool, a founder of the Keystone Lodge of the Royal Ark Mariners at Newport and Past Provincial Grand Warden of Monmouthshire. In addition to these offices Mr Simon had for many years been the Charity Steward of both the Gwent and Tylery Lodges. Mr Simon was also an officer for the Royal Ancient Order of the Buffaloes. He had been connected with that order since 1863 and was one of the founders of Buffalloism in Abertillery. The Sir Joseph Simon Lodge was named after him. He was also a Knight of the Shield of the then defunct Golden Horn Order of Abertillery. In Politics he was a staunch Conservative and was a founder of the Abertillery Conservative Club.
Miss Amelia Simons.
In August 1922 Miss Amelia (Millie) Simons married Mr Wilfred Williams of Leeds.
The Death of Mr Joseph Simons.
In August 1929 Mr Joseph Simons fell ill when in London with his son Dr Simon Simons, he was taken to St Mary's Hospital Paddington and had a small operation and stayed in London to recuperate.
On 14th August 1929 Mr Simons attempted to travel back to Abertillery but collapsed at the train station at London and passed away. Mr Simons was later buried at the Jewish Cemetery at Newport, Monmouthshire.
Mr H. L. Simons.
After the death of Mr Joseph Simons, the firm was carried on by his son Mr Harry L. Simons.
New Premises.
In January 1935 it was advertised that Messrs J. Simons & Son Ltd were trading from 117 Somerset Street, Abertillery. The were selling the famous Pedigree Suncar Pram, made to fold away. The store at Somerset Street was the old Cowards Library and Book Store, previously the Devon Dairy premises.
The Jubilee Celebrations.
In January 1935 Messrs J. Simons & Son Ltd celebrated their jubilee, fifty years in business serving Abertillery.
The Death of Mrs Prescilla Simons.
In September 1941 Mrs Prescilla Simons sadly passed away at 75 years of age.
The Later Years.
Bristol House was later demolished to build the new Woolworths Store, now Iceland frozen foods store.
Notes of Interest – Mr Joseph Simons owned a great deal of property in and around Abertillery. Apart from his business premises at King Street and High Street he also owned other shops along Somerset Street at Abertillery during 1906 and in the same year houses at Somerset Street. In 1908 he owned the houses numbered 9, 10 and 11 at Fieldings Terrrace, Cwmtillery and in 1914 he owned houses numbered 4, 6, 8 and 10 Queen Street, Abertillery.