Mr S. C. Holman Tobacconist.


Mr S.C. Holman was in Abertillery in the late 1890s and a friend of Mr T. H. Prichard. He set up his Newsagents and Tobacconist Shops in Somerset Street Abertillery, one shop in the Pontlottyn Buildings (as seen in the ad and featured image above) and one in the Rogers Buildings opposite the Bon Marche in the late 1890s.

In September 1900 Mr Holman had a giant Pipe made and hung above his premises in Somerset Street. After this date his slogan became "The Sign Of The Pipe" and it was featured on every advertisement.
In April 1901 he opened a shop in 59 High Street Blaina.
Mr Holman had 2 sons, Mr Thomas Frederick Holman, Sunnyside, Oak Street. He worked as a Clerk in Lloyds Bank, Brynmawr. He was a member of the Powell's Tillery Swimming Club and also a member of the Cardiff Water Polo team. He was married to Miss Marion Leigh, daughter of Mr W. H. Leigh M.E. Manager of Six Bells Colliery living at Hafod Arael Cottage Six Bells. The other son was Mr John Stanley Holman married Miss Muriel Griffiths of Camerton Gladstone Street, Abertillery.
Mr Holman's Daughter was Miss Elsie May Holman, she was married to Mr Charles William Reginald Salter originally of Brighton. He played Association Football for Abertillery. They later emigrated to Perth Australia and entered the Congregational Home Mission at Korrelocking.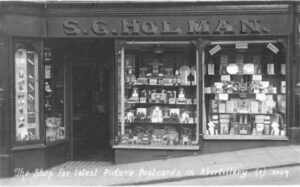 Later Mr S. C. Holman opened a shop on High Street Abertillery (as seen left).