Mr Samuel Ralph & Sons Mineral Water Manufacturing.
A bottle from Mr S. Ralph's Pop Factory. There were a few different design glass bottles produced by Messrs Ralph & Sons and also a known stoneware dumpy bottle about 7″ in height 3″ diameter. 
Made from glass. Size 8″ x 3″ inches.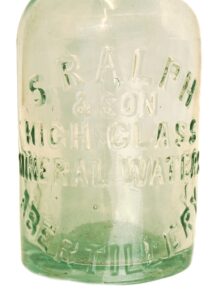 A close-up of the bottle (as seen left) with the embossed lettering.
In March 1905 Mr Ralph applied to the council for permission to build a pop factory and stabling at Portland Street, Brynteg at Blaenau Gwent and started a new business, he began manufacturing aerated mineral water.
The pop factory was close to the old Clyn Mawr Isaf Farm on lower Portland Street, Abertillery.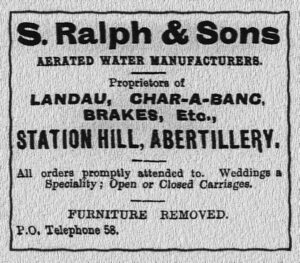 In 1906 Mr Ralph started a carriage service in the area. He placed his first transportation services advertisements in the local papers (as seen right) stating "S Ralph & Sons, Aerated Water Manufacturers – Proprietors of – Landau, Charabancs and Brakes Etc. Station Hill, Abertillery – Weddings a Speciality – Also Furniture Removed" – P.O. Telephone 58.
Link to – Messrs Ralph & Sons story.
In April 1909 the Ralph's Pop Factory at Brynteg, Abertillery was inspected and deemed unfit for purpose, Mr Ralph was given 6 months to bring the factory up to standard requirements. The manufacturing of mineral water continued as in November 1911 the council wanted to widen the road at the bottom of Portland Street and the area close by, the Roads and Bridges Committee were in communications with Mr Ralph in connection with the purchasing of land near the pop factory.