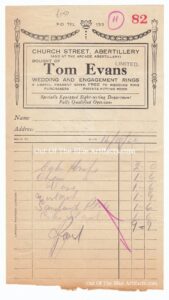 Mr Tom Evans – Jeweller.
Mr Frederick Thomas Evans known as Tom Evans, was born in 1887 at Abertillery, the son of Francis and Elizabeth Evans proprietors of the Royal Oak Inn, Abertillery.
The Jewel Box.
In 1907 Mr Tom Evans opened a jewellery shop at 37 Church Street, Abertillery (as seen to the left in the main featured image above). The shop was called "The Jewel Box", it was opposite the Rolling Mill. Mr Evans advertised the fact that he was a watchmaker and selling – watches, clocks and jewellery, he also gave away presents to all purchasers of wedding rings.
The Marriage of Mr and Mrs Evans.
In 1908 Mr Tom Evans married Miss Florence Ethel Thomas. Miss Thomas was the daughter of Mr William Price Thomas a draper of the Glasgow House, Abertillery. They had two children – Miss Marion Dorothy Evans and Miss Betty Evans. Florence's father Mr William Price Thomas lived at Sudbrook House, Roseberry Street, Abertillery.
New Premises.
In 1909 Mr Tom Evans moved into new premises at 38 Church Street, Abertillery.
On the 1911 census Tom and Florence Evans and family were living at Sylverton House, Gladstone Street, Abertillery.
Mr T. Evans, Optician.
In the 1920's Mr Tom Evans, other than a jeweller was also an optician, fitting and selling hospital prescription glasses with ranges from the Kryptor Two-Sight Glasses, Crookes Glass Lenses and Torics Curved Lenses. During this time many chemists and jewellers offered an optical service such as Allmarks Jewellers and T. H. Pritchards Chemist etc.
During the early 1930's Mr Tom Evans opened a branch of his Jeweller Shops at the Arcade in Abertillery, he also had shops at Cardiff and Swansea.
The Death of Mrs Evans.
In December 1945 Mrs Florence Ethel Evans sadly passed away at her home Sylverton at Gladstone Street, Abertillery.
The Death of Mr Tom Evans.
I believe Mr Tom Evans died in 1960 aged 74. The shops closed not long after. I have heard that the curved glass window that was at his premises in Church Street was later placed into a bay-window at a house in Portland Street, Abertillery.