Mr William Adams – Grocer.
Mr William Adams (as seen in the main featured image above) was a native of Abertillery, born in 1870, son of Mr George Adams a coal miner from Blaina and Mrs Cecelia Adams of Llanhilleth. The family lived at the Co-operative Stores Building, Church Street, Abertillery. In 1880 Mr George Adams died at the age of just 41 years and his widow Celia moved with her children to Market Street, Abertillery.
Mr William Adams was one of seven children, five brothers – Messrs George Adams, Tom Adams, Frank Adams, Jack Adams, Fred Adams, Charles Adams and Wyndham Adams with a sister Miss Mary Ann Adams.
On the 1891 census Mrs Cecelia Adams was listed as a china dealer and was now living at 9 Commercial Street next to Mr and Mrs James and Martha Mundy, fishmongers & grocers. She was living with her then children – Charles, William, Wyndham, Tom, Frank, John, Fred and George Adams. Mr William Adams was working as a grocers assistant at this time.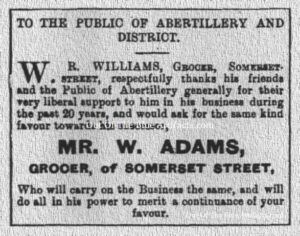 The Grocery Business.
Mr Adams worked at a local grocery business from the late 1880's and in March 1894 took over the premises and old business of Mr W. R. Williams (as seen in the advertisement left) which was based in Somerset Street, Abertillery.
In 1894 Mr William Adams married Miss Olive Amelia Rynallt born 1870, daughter of Mr William Rynallt a carpenter by trade and Mrs Mary Rynallt of Govilon, Brecknockshire. They later moved into Alexandra House at 71 Somerset Street, Abertillery. They had two children Miss Violet Mary Adams, born 1897 and Master William Rynallt Adams, born 1901.
Chamber of Trade.
Mr William Adams was a member of the Abertillery Chamber of Trade along with the following tradesmen – Mr Arthur Tilney (Chairman); Mr Phillips of Cwm Farm; Mr Edward Williams; Mr James Mundy; Mr Gilligan; Mr Jesse Daggar; Mr S. Mills; Mr J. E. Phillips; Mr A. J. Bevan; Mr G. Gregory; Mr Dredge; Mr Barnes; Mr Watkins; Mr Samuels; Mr James Gregory; Mr Cattee; Mr D. J. Michael; Mr W. R. Haylings; Mr W. Rees; Mr L. E. Davies; Mr J. Griffiths; and Mr C. W. Carpenter.
In the mid to late 1890's Mr Adams was selling wines and spirits etc from his shop at Somerset Street, Abertillery.
The exact premises of Mr Adams grocery shop is a little hard to pin-point as of the re-numbering and street re-naming systems at the time the Abertillery Town was in its infancy (as seen in the notes below).
Wines and Spirits Agent.
In the late 1890's Mr William Adams, grocery and wines provision business was advertised in local papers (as seen right) as being at 9 Somerset Street. It was stated he was the largest retailer of wines, spirits and beers in the Western Valley's and became an agent for – The European Wine Company, London. W. J. Rogers Ltd, Bristol. Messrs Arnold Perrett & Co Ltd of Wickwar and Hereford and Messrs Whitbread & Co, London. Deliveries were available to all parts of the town and district.
On the 1901 census Mr William Adams Grocery and wines provision business was now at 36 Somerset Street, Abertillery.
In July 1902 advertisements were placed in the South Wales Gazette for a haulier to work for Mr Adams.
Master Ivor Pugh.
In September 1902 Master Ivor Pugh, the five-year old son of Mr T. Pugh of Glandwr Street, Abertillery was sadly killed when one of Mr Adams' horse and carts ran over him while he was playing on the road at Carlyle Street, Abertillery.
In 1910 Mr William Adams was vice-president of the Grocers and Master Bakers Association at Abertillery, the president was Mr Emlyn Phillips.
Miss Violet Mary Adams.
During the Great War Miss Violet Mary Adams served in the Woman's Legion at Rhyl and later became a domestic science teacher at the Abertillery County School.
In August 1922 Miss Violet Mary Adams, daughter of Mr and Mrs Adams married Capt David Towy Evans B.A., M.C., son of the late Baptist Minister Rev T. Towy Evans. Capt David Towy Evans was assistant commissioner for the National Savings Committee, South Wales Region and was in command of the "A" Company Brecknockshire and Monmouthshire Battalion, Monmouthshire Regiment Territorials. During the Great War he served in France for fifteen months going out with the Cheshire Regiment. He also saw service in Russia with the Kings Liverpool Regiment and was adjutant to the advance column on the River Vada where he gained the coveted Cross of St Anne.
Freemason Association.
Throughout his life, Mr Adams was an active freemason, his mother lodge was St Davids at Rhymney, which he had joined before there was a lodge at Abertillery. He later became one of the founders of the Gwent Lodge which was consecrated at Abertillery on 29th February 1926. He was past master of the lodge and also chaplain. He held many posts in freemasonry, a member of the Charles Lyne Lodge at Newport, and was active in various lodges at Monmouth and became worshipful master there in 1927.
The Death of Mr Adams.
Mr William Adams sadly passed away on Thursday 2nd August 1928 at 58 years of age. He fell ill on July 24th and was taken to the Abertillery and District Hospital where an operation was performed by Dr J. Dunlop, he rallied and seemed to get better, though had a relapse and passed away soon after.
On Tuesday 7th August 1928 the funeral took place at the Parish Church Abertillery. After a short service at his home the cortege left for the Parish Church and for burial at the new Cemetery Aberbeeg. The coffin bore the masonic emblem and the bearers were all past masters of the Gwent or Tillery Lodges and were named as follows – Mr Joseph Simons, Mr A. Moxley, Mr T. Drew of Blaina, Mr S. C. Holman, Mr P. Kocks and Mr Emile Wautier. Rev H. S. Rees performed the obsequies followed by the customary masonic rites.
In October 1928 the will of Mr William Adams was released and published. It stated he left £8,580 gross and £7,685 personality equivalent to £459,000 in today's money.
Notes of Interest – Mr William Adams was one of seven children, five brothers – Mr George Adams a greengrocer. Mr Tom Adams the secretary of the Limes Club, Abertillery. Mr Frank Adams of Cwmfelinfach. Mr Jack Adams of Six Bells. Mr Fred of the Brynteg Bakery, Blaenau Gwent. Mr Charles Adams was a hotel proprietor at Bristol and Mr Wyndham Adams a hairdresser at Llanhilleth and a sister – Mrs M. A. Short, nee Adams, wife of Mr Charles Short of Vivian Street, Abertillery.
Cwm Street and Somerset Street Renaming.
The exact premises the Mr Adams traded from is a bit of a mystery to locate as throughout the 1880's and early 1890's Somerset Street was from Messrs Morgan & Owen stores, later the Pontlottyn, across to High Street and contained only a few shop premises. At this time Messrs Morgan & Owen stores was at 1 Somerset Street with the Somerset Hotel opposite being 2 Somerset Street. Cwm Street was from the Rogers Buildings (opposite what would become the new Bon Marche) across to the Queen Street School.
On Tuesday 4th June 1895 the Abertillery District Council held a meeting at the council offices in which they discussed the street naming in the district, they also decided to discard the old Cwm Street in favour of renaming the whole street Somerset Street and also renumbering all premises along the thorough-fare. Later, number 1 Somerset Street was on its junction with High Street and with the new Pontlottyn Store incorporating many of the individual shops in its vicinity the numbering system changed quite often until the shop buildings were properly established.