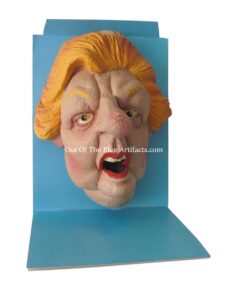 Mrs Margaret Thatcher – Spitting Image Bendy Hand Puppet.
A 1984 Spitting Image Productions Ltd. Made from a Foam Rubber. There are four finger holes in the back of the head to aid movement and animation.
Spitting Image Bendy's are manufactured and distributed under license from Spitting Image Productions Ltd by Bendy Toys Ltd, Ashfield, Middlesex, United Kingdom.
Size of the box 5″ X 4″ X 6″ inches.
Made in Malaysia.
Notes – The copyright notice on the back of the box reads – Spitting Image Productions 1987.