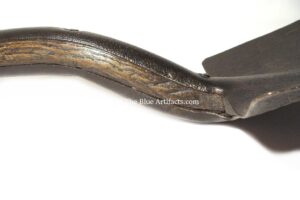 N.C.B. Round-Mouth Shovel.
N.C.B. Shovel. Made from Steel and Wood. This is a No2 round mouth shovel, with a bent shaft.
The blade of the Shovel seems to have been made from one sheet of Steel formed around the steam bent handle for strength. (as seen left) it is a work of art!
The N.C.B. logo is stamped into the back of the stick. Size 38″ x 11″ inches.