Oak Street Cottages – Abertillery.
The main image (featured above) taken sometime between 1905 and 1920 shows the Station Hotel, rebuilt in 1902 by Mr Noel Bagley, Building Contractor of Oak Street, Abertillery and the 3 attached cottages which at the time this image was taken belonged to Mr D. W. Morgan, the South Wales Argus Offices of Newport and Messrs S. M. Ash, details of which can be seen below.
The Station Hotel.
Mr Rhys Richards, Hotel Keeper, born 1878 at Neath with his wife Mrs Katie Richards nee Jones also of Neath with family Miss Victoria Richards and Master Howell Richards. Also residing at the premises were Mrs Elizabeth Jones (mother-in-law) and Servants Mr William Jones, Mr Albert Jones and Miss Evelyn Richards.
Following is a Link to – The Story of the Station Hotel
Mr S. M. Ash, Saddler and Harnessmaker.
No5 Oak Street, Messrs Sydney Mortimore Ash, Harnessmaker and Saddler, born 1872 at Newbridge, Monmouthshire. Mr Ash lived at the premises with his wife Elizabeth and children. In June 1910 Mr Ash opened another Saddlery Shop at the Arcade Abertillery and operated from both premises. In September 1920 Messrs Ash & Son vacated their No5 Oak Street shop, moved their business to the shop at the Arcade and extended the Arcade shop into High Street Abertillery. Shortly afterwards the old Oak Street premises were taken over as a cafe.
In 1920 The Station Cafe opened in the ex Ash Saddlers premises at No5 Oak Street. The proprietors were Mr & Mrs William Llewellyn Newell. They previously had a Cafe at the top of Church Street but it was practically destroyed by water damage at the time of the fire at the Roath Furnishing Company Shop in 1919. When Messrs Ash vacated their premises Messrs Newell moved to Oak Street and set up the Station Cafe in their old shop. The Roath Furnishing Company moved into Rogers Buildings Somerset Street.
The South Wales Argus Office.
No6 Oak Street, the Argus Office the home of Mr William Ellis Jordan, a Newspaper Reporter for the South Wales Argus, based in Newport. Mr Jordan born in 1873 at Abertillery lived at the premises with his wife Laura Jordan nee Smith born 1881 at Birmingham, England and their daughter Nora Jordan born at Abercarn.
Mr William Ellis Jordan was the son of Mr William Jordan of Pontypool and Mrs Jane Jordan nee Ellis of Abergavenny and brother to Misses Charlotte Jordan, Martha Jordan, Henrietta Jordan (School Teacher) at Abertillery, Elizabeth Jordan (School Teacher) at Abertillery, Mary Jordan and Masters Edwin Jordan, Alfred Jordan, Charles Jordan (School Teacher) at Abertillery and Walter Jordan. His father, Mr William Jordan was a Boot and Shoe Manufacturer based at the corner of Somerset Street and Commercial Street. In 1902 his business was one of two that was purchased by Messrs Powell & Jones and amalgamated into the new Bon Marche Store, Abertillery. Mr William Jordan later set up business at Gladstone Street, Abertillery and was still listed as being a Boot and Shoe Manufacturer.
In 1921 Mr G. E. Dibdin was the resident Manager of the South Wales Argus Office at Abertillery and by the mid to late 1920s the Office at Oak Street was closed and all operations had moved to Church Street, Abertillery.
Mr David William Morgan, Hairdressers.
No7 Oak Street, the Hairdressers Shop of Mr David William Morgan. Mr Morgan born in 1884 at Abergavenny lived at the premises with his wife Eleanor Morgan nee Bundred, born 1885 at the Garn Vach, Nantyglo, sister of Mr Tom Bundred the Conductor of the Abertillery Orpheus Glee Society from 1908. In the 1930s David Morgan set up a store in the Trinity Buildings at Church Street, Abertillery under the name Bundred Morgan.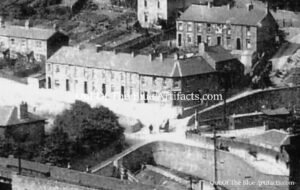 The Station Hotel.
The original Station Hotel (as seen in the 1896 image left) was much smaller and had 6 cottages attached along the front adjoining Oak Street. The residents of the Station Hotel and Cottages at the time this photograph was taken are listed below.
In 1902 the block was reduced to just 3 cottages when the New Station Hotel was built and enlarged. Later the street was renumbered during the various renumbering schemes by the Council, which occurred as more properties were erected in the town.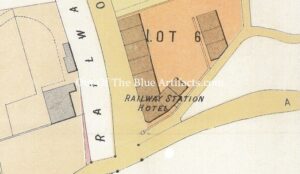 Points of Interest – The land in question (as seen right, coloured Orange) was originally owned by Mr Edmund James, an early Colliery Agent and later Landed Proprietor living at Clynmawr, Blaenau Gwent.
In the mid 1850s when the British School was being planned, Messrs Bailey Iron Masters of Nantyglo gave their land for the school to be constructed, Mr Edmund James also gifted land for the construction of the access roads etc. During the land sales of December 1879 the sales sheets stated the land was leased by Mrs Ann James for a period of 999 years, the cottages and the Station Hotel were being sold and it was stated that the rents were to be paid to Mrs Ann James of Abertillery.
At this time Edmund James son, Mr Edmund James Jnr and his wife Mrs Ann James of Caerphilly were Landlord and Landlady at the Bush Inn, Abertillery. This land must have been handed down to them and who had applied for a licence to sell alcohol at a premises on Blaenau Gwent Road, Abertillery at this time, this may have been a licence for the Station Hotel?
The cottages were amongst some of the older buildings in Abertillery and some of the earlier residents prior to the re-building of the Station Hotel were as follows – Taken from the 1891 Census.
Station Hotel.
Mr Isaac Breeze an Innkeeper, with his wife Jane Breeze and family Masters Albert Breeze, Jno Breeze, Rees Breeze and Miss Catherine Breeze . Also resident were Miss Jemima Miller (Cousin) and Servants Misses Rose Gardner and Alice Allen.
No3 Oak Street.
Mr Robert Leader a Haulier, with his wife Cecelia Leader and family Master William Leader and Miss Elizabeth Leader. Servant Miss Susanna Wise.
No 4 Oak Street.
Mr John Harding a Railway Signalman, with his wife Elizabeth Harding and family Masters Charles Harding, Frederick Harding, James Harding and Lancelot (Lance) Harding with Misses Dora Harding and Agnes Harding. Also resident was Mr Henry Gardner a Boarder working as a Railway Porter.
No5 Oak Street.
Mrs Jane Samuel and family Mr Henry Samuel and Mr Hanamah Samuel with Miss Margaret Samuel . Also resident were Mr Thomas Griffiths a Boarder a Coachman in the Tin Works and Mr John Williams a Boarder an Haulier.
No6 Oak Street.
Mr Thomas Stephens a Coal Miner, with his wife Jane Stephens and family William Stephens, John Stephens and William Parry (step-son). Also resident were Miss Mary Slater a Servant.
No7 Oak Street.
Mrs Emily Stewart and family Master Thomas Stewart with Misses Ellen Stewart a Milliner and Annie Stewart.
No8 Oak Street.
Mr James Hooper a Railway Signalman with his wife Martha Hooper and family Master Joseph Hooper with Misses Sophinea Hooper, Mary Hooper and Agnes Hooper (grand-daughter). Also resident was Miss Sarah E. Hooper a Visitor.
Earlier Census records don't show individual addresses, the layout is different and it's difficult to say who lived at a certain address in relation to the houses as seen today.
The James Family.
Mr Edmund James Snr.
Mr Edmund James Snr born in 1811 at Gelligaer was a Colliery Agent and later a Landed Proprietor. There was a Mr Edmund James, Coal Level owner who in the 1820s-30s opened the Old Penyvan Coal Level at Aberbeeg, he was listed as being from Abertillery.
In the 1840s Mr Edmund James lived at Clynmawr, Blaenau Gwent, (Clynmawr was the large area of land from the Roseheyworth Housing Estate to Portland Street, from the Cock n Chick School to the Railway Lines where the Intermediate School was built) The Clynmawr Hotel was built at its centre and named after the area.
Mr Edmund James Jnr.
Mr Edmund James' son Mr Edmund James Jnr born in 1840 was later Landlord of the Bush Inn, Abertillery around the 1870s with his wife Mrs Ann James of Caerphilly.
Mr Alexander James.
Mr Edmund James' youngest son Mr Alexander James, born about 1848 became Landowner, Timber Merchant and owner of Stone Quarry's in Abertillery. Mr James Timber business was later sold to Mr Arthur Tilney who developed it into the Abertillery Steam Saw Mills, situated close to the Railway Inn, said to have been the largest Timber business in the County. Mr James lived at Clynmawr Ganol, (middle farm) opposite the Blaenau Gwent Baptist Church with his wife Eliza and their family Master Edmund born 1880 and Miss Edith Maria Ann James born 1881.  Mr Alexander James passed away in January 1900 and the Clynmawr Ganol was later used as a Private School in the early 1900s by Miss Haylings. The building was demolished to build the Grosvenor Home nursing complex in the 1980s, later renamed The Penybont Nursing Home.