ALBUM……. Out Of The Blue.
Label/No……. Jet/Epic CJT – 1000122.
Pressed in……. Spain.
SIDE 1
Turn To Stone.
It's Over.
Sweet Talkin' Woman.
Across The Border.
SIDE 2
Night In The City.
Starlight.
Jungle.
Believe Me Now.
Steppin' Out.
SIDE 3
(Concerto For A Rainy Day)
Standing In The Rain.
Big Wheels.
Summer And Lightning.
Mr Blue Sky.
SIDE 4
Sweet Is The Night.
The Whale.
Birmingham Blues.
Wild West Hero.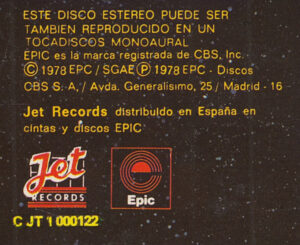 Notes……. Double Album, image shows labels 1 & 3 of 4.
This double LP has the Jet DP-400 standard issue gate-fold cover and inner lyric sleeves though with the added Jet Epic CJT – 1000122 details printed on the back (as seen left).