ALBUM……. Out Of The Blue.
Label/No……. United Artists JT-LA823.
Pressed in……. Manufactured in England – printed (Made in Sweden).
SIDE 1
Turn To Stone.
It's Over.
Sweet Talkin' Woman.
Across The Border.
SIDE 2
Night In The City.
Starlight.
Jungle.
Believe Me Now.
Steppin' Out.
SIDE 3
(Concerto For A Rainy Day)
Standing In The Rain.
Big Wheels.
Summer And Lightning.
Mr Blue Sky.
SIDE 4
Sweet Is The Night.
The Whale.
Birmingham Blues.
Wild West Hero.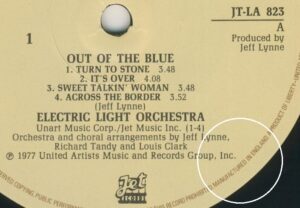 Notes……. This record was actually manufactured in England (as seen circled in White) on the label image left, it has a USA UA issue number JET LA-823 and it was meant for the Swedish market as it has (Made in Sweden) and NCB printed on the labels.
Double Album, image shows labels 1 & 3 of 4.