Penybont Cwmtillery – By Product Works, Washery & Coke Ovens.
Prior to 1911 the Coke Ovens were located in the grounds of Cwmtillery Colliery.
Link to the original Coke Ovens at Cwmtillery Colliery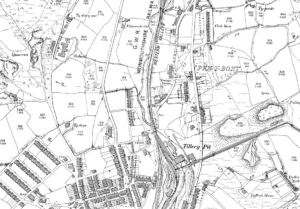 The Map (left) shows the area in 1901, about ten years before the By-Product Plant, Washery and Coke Works were constructed. The works would be built in the fields seen in the top-centre of the Map where the words "G.W.R. Monmouthsire Railway" and "Western Valleys" is printed.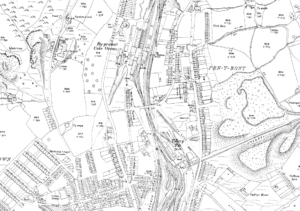 In 1911 the Coke Ovens at the colliery were shut down and demolished. In 1912 the Messrs J. Lancaster Company built a completely new By-Product Works, Washery and Coke Ovens further down the Cwmtillery valley just north of the New Bridgend Inn (as seen on the Map right) where the Tillery Valley Foods factory is today.
In June 1912 the By-Product Works became the flash-point in a riot which took place over an argument between Management and the Union.
The Messrs J. Lancaster Company were using the washery to wash coal from other collieries in the Lancaster unit, such as Beynons and Roseheyworth etc.
In the early 1920s the the Coke Ovens and Works shut down and re-opened in March 1923.
In 1937 the Messrs Richard Thomas & Co of Ebbw Vale, the new owners of the collieries built new washeries at each of the pits. The company said it was to ease the pressure off sending the coal to Cwmtillery to be washed and prepared. 
Points of interest – There were Coke Ovens built at practically all Collieries, the Coke was used in other industries like Iron and Tin works etc. There were many Coke Ovens in the Coalbrookvale area, the Blaina Works, the Vivian Colliery, and Celynen Colliery.
In the 1870s the owner of the Abertillery Tin Works Major Phillip Samuel Phillips also owned the Coedcae Tilllery Coal Levels (where upper Arael View is now) and built the Coking Ovens on site to supply the Abertillery Tin Works (the Coking Ovens were close to where the Roseheyworth Millenium School is today) They were situated down over the banking and close to the Railway Lines, now the A467.
Major Phillips also owned the Blaina Works and I believe that he utilised the Coed Cae Tillery Coke Ovens rather than the Blaina Ovens to save money on transportation and to have a ready supply.
On the featured image above the image was taken on the eastern side of the valley looking towards the Coke Works with the Cock n Chick School (upper right) and Ty-Byn Hill (upper left) of the photograph.