Portable Travelling Theatres at Abertillery.
In the late 1880s early 1890s many towns were visited by Portable Travelling Theatre Companies. It must have been quite a site seeing these travelling companies rolling into town, the logistics of it must have been something to be admired. The theatres were in a sort of kit-form, with timber and canvas walls, joists, roof struts, battening, panelling, (some theatres even had iron strutted roofs) along with all interior furnishings, scenery, seating. with all engineers, carpenters, stagehands and travelling musicians, actors and performers, wardrobes and make-up etc, it was quite an achievement to construct, operate, maintain and manage such a large group of artisans.
The portable theatres were in each major town on a 6 month basis and even though they were welcomed by the people who wanted the entertainment, the Councillors were less than happy, in one meeting of the local board it debated the lack of payments of rates being paid to the Board that was a concern, as they were portable and not fixed they were exempt from any rates and some of the Councillors wanted them to be made liable for payments.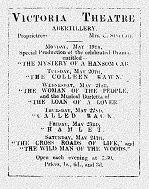 Victoria Theatre – Proprietress Mrs C. Sinclair 1890. The shows started on the Monday May 19th and went through to the Saturday May 24th 1890. They were drama and musical shows 6 days a week with different productions for the full six months. When the production was set up in Newport there were special trains arranged by the G.W.R to run up and down the valley from Newport to Nantyglo for the theatre goers to commute to see the shows.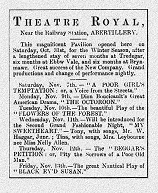 Theatre Royal – 1891. No Manager listed on the bills. The shows started on the Saturday November 7th, Sunday was no performance and then Monday 9th through to Friday 13th 1891. Again weekly changes in the bill and for a period on 6 months.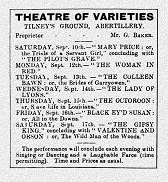 Theatre Of Varieties – Proprietor Mr G. Baker 1893. The shows started Saturday September 10th, Sunday was no performance and then Monday 12th through to the Saturday 17th. Again weekly changes in the bill and for a period on 6 months.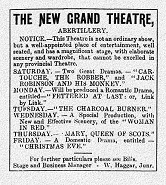 New Grand Theatre – Stage and Business Manager Mr W. Haggar Junr 1893.The shows started Saturday June 3rd, Sunday was no performance and then on Monday 5th, through to Friday 9th  June 1893.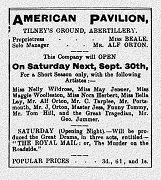 The American Pavilion Theatre – Proprietress Miss Beale; Stage Manager Mr Alf Orton 1895. The shows started Saturday September 30th 1895, this show was only for a short period.
The Market Hall was a venue for other shows and performances from an early time, though in 1891-92 the old Hall was demolished and a new Market Hall was constructed, a splendid hall for operas and other performances at the time and gradually the travelling theatres died out.