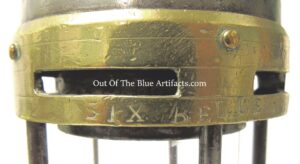 Six Bells Colliery – Miners Oil Lamp.
A Messrs Thomas and Williams Ltd of Aberdare, miners safety oil lamp No24.
Made from steel, iron and brass. Size 10″ x 3 1/2″ inches.
The lamp has the name Six Bells stamped along the brass air-vents (as seen in the image left) and also on the inside at the top of the oil reservoir.